Own the messaging space — own the world. That's the goal of today's top Android messaging apps. With text messaging as the fastest-growing communication methodology in the world, these companies are in a race to gain your confidence and your loyalty.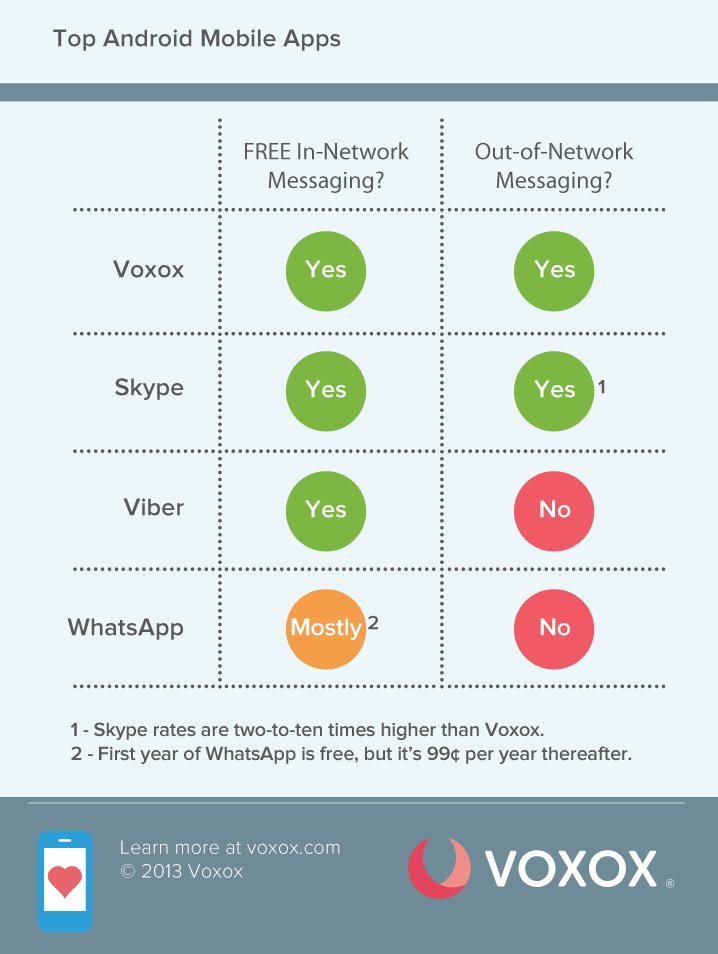 WhatsApp Messenger
Backed by millions of active users, WhatsApp Messenger allows you to send text, photo, voice and video messages to individuals and groups. Upon installation, the app compares phone numbers on your phone against known WhatsApp subscribers and adds them to your WhatsApp contact list. Messages to other WhatsApp users are free with a current subscription.
Like most Android messaging apps, WhatsApp can't send or receive messages from outside its own network of users, so if you want to communicate with someone who doesn't use WhatsApp, you'll need use a traditional messaging app. In network, it's free; out of network, it plain doesn't work. WhatsApp is free to download and use for the first year, and 99¢ per year after that.
Viber
In addition to voice calling and text messaging, Viber lets you share video, audio, images and location. Notifications prevent you from missing a call or text message, and a "seen" status tells you if your message has been read. Viber includes an emoticon set but the real fun begins with "doodles." Doodles lets you write or paint over photos, creating captions or funny sayings, before sharing it with your friends.
Viber includes text, picture and video messaging across all platforms. Upon installation, it creates an account with the your own phone number as a username. It then synchs with your phone's address book, so there's no need to add contacts in a separate app. However, as with WhatsApp, Viber won't allow you to send out-of-network messages. So you will need a separate app for that.
Skype
Skype has long been known more for its voice and video calling, than for its messaging capabilities. The now Microsoft-owned video and chat messaging service has an installed base of over 500,000, but despite having decent messaging traffic, messages haven't been Skype's forte.
That said, Skype has unveiled a major redesign of its Android app, rethinking the way users access its messaging.1 Messages can be sent in-network or out-of-network, however Skype's rates can be as much as 23.5¢ per message. The interface is uniform across all devices, so switching between devices is familiar.
Voxox
Certainly the most feature-rich of Android messaging apps, Voxox enables you to control and manage all of your communications from one place, making it easier, less costly and more efficient to communicate. Voxox goes beyond rich communication, allowing global connectivity across all devices. Connect with users of the most popular IM services and social networks from a single app.
Voxox's eponymous flagship app provides you with free peer-to-peer voice calls, cheap VoIP calling to landlines and mobiles, intelligent call routing and screening functionality, texting, photo and video sharing, location and map sharing, offline messages, and voicemail to text.
With Voxox, you can enjoy enhanced messaging and enriched calling across any device, on any network, with anyone in your address book. Non-RCS users can easily communicate via voice and text to anyone on the Voxox platform.
Out-of-network texts are only 1¢ in the U.S. and Canada — less than one-tenth the cost of Skype — and approximately 2¢ in all other countries.
The Bottom Line
While Voxox has the most comprehensive RCS feature set of these apps, each of the others holds their own in specific areas: WhatsApp for its robust messaging network, Viber for doodling fun, and Skype for video calling. The true winner in the messaging race for world domination is you.
Reference
1. Isaac, Mike. With Android Revamp, Skype Aims to Be a Bigger Player in Mobile Messaging, allthingsd.com, July, 2013