Way back around 15 B.C. (before cellphones), a considerable amount of advance coordination and subsequent cooperation were involved in meeting up with friends, checking in with parents and finding a meeting place. Landmarks, clocks and precision timing were all employed for a smooth rendezvous. Trust was also a large factor. When someone said, "Be here at such-and-such a time," it was usually guesswork as to whether this would be adhered to.
Well, guess no more! With Location Sharing, such as that available in Voxox, checking in and finding a location is as simple as tapping a button on your iPhone or Android.
Space and Time
How is Location Sharing possible? Originally developed by the US government for military navigation, the Global Positioning System, or GPS, is a network of approximately 30 satellites orbiting the Earth at an altitude of 20,000 km (about 12,427 miles). Each of these satellites regularly transmits — at lightspeed, mind you — its position and time.
Everywhere on Earth, at least four GPS satellites are within range at any given time.
Anyone with a GPS device, such as a mobile smartphone, can receive radio signals that are broadcast from these satellites. When your GPS-enabled device intercepts these signals, it calculates the distance of each satellite based on how long it took to receive the signal. Once this is accomplished, your GPS receiver uses a geometric process called trilateration to pinpoint your location. Feel free to look up trilateration at your leisure.
Applied Location Sharing
Location Sharing has many practical — if not obvious — applications.
Find Your Friends. Most commonly, you can use it to find your friends in a large venue, say a stadium music festival. In a sea of constantly moving people, a quick Voxox text message with your location can save you from experiencing the event alone.
Find Your Car. Walking around in circles, trying to remember where you parked, can ruin an otherwise nice evening. With a little pre-planning, you never have to suffer through this awkward situation again. Once you park, simply share your location to yourself or your partner. When you're ready to return to your car, Location Sharing directs you straight to it.
Track Employees or Kids. Employers and parents can keep employees and teens accountable for their whereabouts. Location Sharing doesn't lie. Requiring check-ins via Location Sharing is an easy way to make sure everyone is doing what they say they're doing.
More Social, Less Practical
Location Sharing has other, less practical applications as well. For example, make your friends jealous by letting them know that you're the first among them to check out a hot new restaurant. When on vacation, Location Sharing helps you track where you've been so you can relive your trip later. Arriving home, you can let others know you're back from vacation so they can flock to your door to see your fun three-hour slide show.
Back to Practical
Location Sharing on Voxox is almost too simple to show a step-by-step tutorial, but here it is anyway.
From your messaging screen, tap the Up arrow in the lower left to open the media drawer.

Tap on the "Share Location" icon.

A map appears, automatically showing your location with a "pin."

Tap "Send."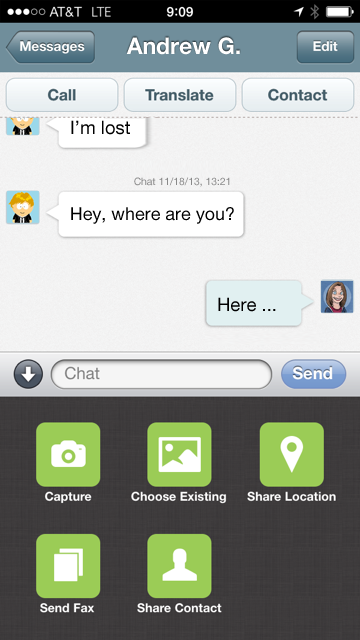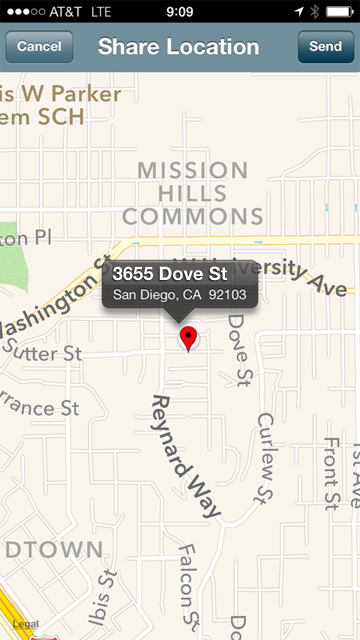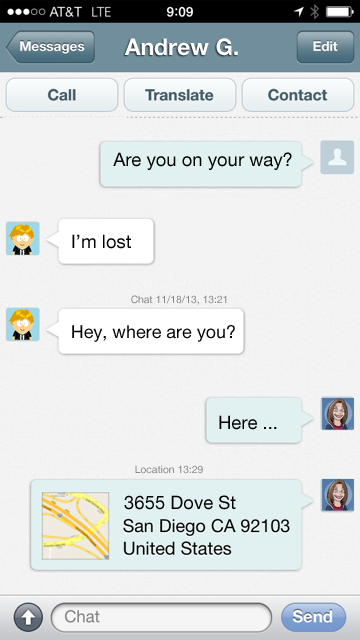 Location Sharing from your smartphone makes it quick and easy to avoid the Lost and Found department, whether it means finding your friends, finding your car, finding your kids or finding your way. And best of all for the guys: no one will know that you had to ask for directions.