You pulled an allnighter crafting a killer PowerPoint for this morning's business meeting. Now, you need to send it off to your department head for a quick edit, but the file is way too big to share in an email, much less an instant message! Breaking up the slides to send in multiple emails is too time-consuming and confusing. Wouldn't it be great if there was a way to send massively huge files in just a few clicks? Well, there is -- Voxox file sharing!
Voxox file sharing lets you send files up to 100MB with anyone across any chat, SMS or email straight from your desktop. Plus, upon sharing, Voxox uploads your file to a hosted URL making it easy to download and access files on any device. There are a few ways to send files via Voxox, here's how it works if the recipient is already on your contacts list...
Choose the contact with whom you'd like to share a file
Click the inverted arrow to the right of the contact name and choose Share File from the drop down list (or click on the file share icon that looks like a document to the right of the fax icon)
Choose the file you'd like to send
A URL will load to the text box
Hit send!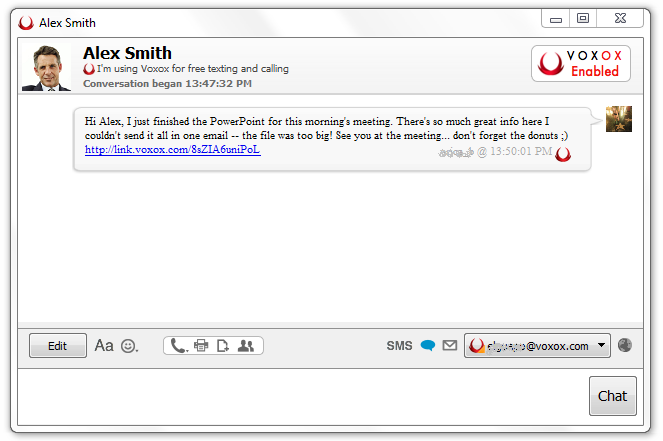 If you're wanting to send a file to someone you haven't added to your Voxox contacts list, sending a file is still hassle free...
Go to File on the VoxOo taskbar and choose Share File
Choose to send via email, SMS or chat
Enter the chat ID, SMS number or email address of the recipient
Choose the file you'd like to send
A URL will load to the text box
Hit send!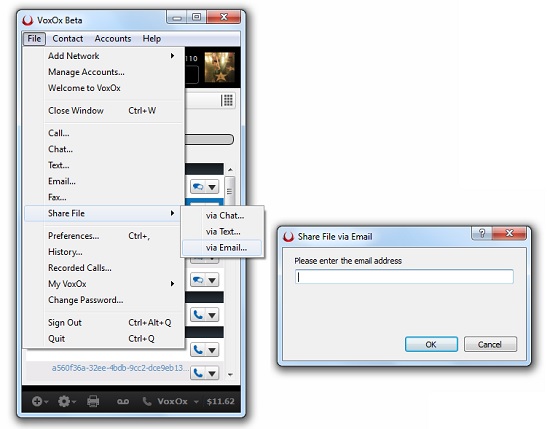 Once the recipient receives the file URL via text, email or chat, they can download and access the file from any device -- Voxox file sharing truly is a quick, hassle-free way to share massively huge files. Don't have Voxox yet? Go download it now and tell us what you think by commenting below or posting to our Facebook page!