It's the first day of
Mobile World Congress 2013
in Barcelona, Spain and we're so excited to be here! Like most conference goers, you probably came to MWC to see all the cool new mobile
tech products
(like the awesome demos that the Voxox team has set up at our booth #8.1L6 in the App Planet exhibit!), but also because you love free schwag and high-tech giveaways!
So, in the spirit of celebrating all that is mobile technology, the Voxox team will be giving away one iPad Mini™ and one Nike Fuel™ Band each day of the conference! Want to score big? Here's how it works…
1. At Mobile World Congress, Feb. 25-28, go to our booth #8.1L6
in the App Planet exhibit or bump into one of the Voxox models on the show floor and get a brochure card that looks like this: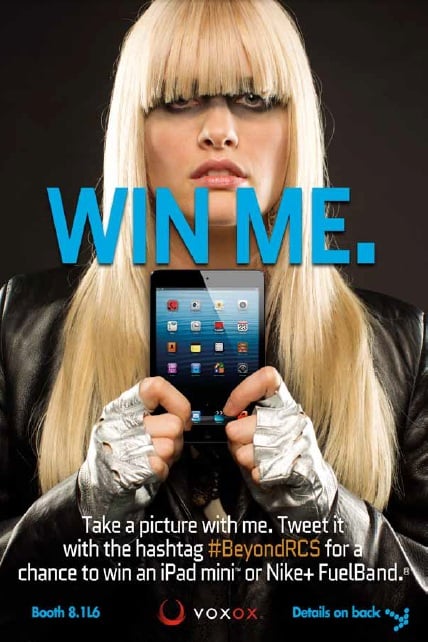 2. Take a picture
with the model who gave you the brochure card.
3. Tweet the picture
with the hashtag #BEYONDRCS. (Because Voxox takes your business Beyond Rich Communication.™)
4. Return to booth 8.1L6
at the time the model tells you, to see if you win an iPad Mini or a Nike Fuel Band!
Winners will be picked at random from the
#BEYONDRCS
hashtag Twitter stream. You must be present at the booth to win… so don't be late!
What are you waiting for? Come to the Voxox booth (#8.1L6) now!