Hot off the presses! We've just announced an update to our free mobile app, Voxox Call for iPhone. The new mobile app release provides iPhone users with the option to make high quality VoIP calls over 3G, 4G, LTE, and Wi-Fi networks, as well as an option to use the app's original callback feature, Voxox Call Connect, when the data connection is poor or inconsistent to make calls worldwide. The new version of the app also comes with a variety of performance and usability enhancements related to quality of its telephony features, app design and user experience.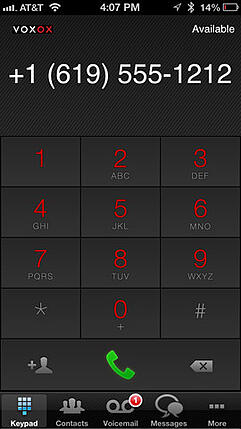 Previously, the Voxox Call mobile app focused on a
feature
called Voxox Call Connect. This calling feature leveraged the traditional telephone network to initiate a call at Voxox's cheap worldwide calling rates via callback functionality. Now, with the addition of inbound and outbound VoIP calls utilizing specialized CODEC (Compression / Decompression technology) and Voxox's VoIP cloud-based platform, the Voxox Call app completes its goal of seamless voice connectivity, as it enables users to place and receive free or low-cost, high-quality calls in virtually any connectivity situation.
The Voxox Call mobile app comes with a slew of additional features, including 2-way worldwide SMS with language translation, inbound and outbound faxing, Find Me call forwarding, voicemail transcription, on-call star commands that allow users to create multi-party conference calls, switch devices mid-call, digitally record calls and more. The mobile app integrates seamlessly with the full-featured Voxox desktop software, allowing calls, texts, and faxes to be sent and received through the same account. New users can sign up for a free Voxox account within the mobile app interface, and as part of the sign up process, select a free U.S. phone number (or purchase a low cost Canadian number) – the world's only phone number enabled with voice, SMS, fax, as well as voicemail transcription, all-in-one. New users who sign up for Voxox via mobile app can
download the Voxox desktop software
without any additional sign ups.
Voxox Call for iPhone can be used on any iPhone, iPad and iPod touch. View the full list of existing and new app features and/or
download the latest version of the Voxox Call app for iPhone
on the App Store
SM
.