2012 has been a rather important year for social media and the mobile industry. Not only have some of this year's milestone events like the Summer Olympics and the Presidential Election broken social networking records, but we have also seen a growing acceptance of social media by both businesses and individuals. Plus, as we have become more reliant on smartphones, mobile technologies have continued to evolve, reinventing the way we use portable tech -- the release of the iPhone 5 and cheap mobile calls via the Voxox Call
iPhone
app, to name a few!
To wrap up the state of mobile technology and social networking in 2012, here are some shocking statistics, facts and figures that paint a gigantic picture of just how much social networking and mobile technologies have grown over the past year!
Image Source: cutcaster.com
State of Social Networks and Mobile Technologies in 2012:
In the past year, 12 million more Americans are using social networking many times daily. (socialmediainbusiness.com)
45-54 year-olds account for the fastest growing segment in social media. In fact, 55% of Americans 45-54 now have a profile on a social networking site. (SocialHabit.com)
83% of people believe platforms like Twitter and Facebook help them make new friends and 25% believe they have boosted their confidence. (layerseo.com)
There are more devices connected to the Internet than there are people on Earth. (AllTwitter.com)
There was 103% growth in website traffic from smartphones from 2011-2012. (bigthinkingonline.com)
The average smartphone user has 65 apps installed on their phones, but only uses 15 of them per week. (Voxox.com *link to age of apps infographic*)
Over 300,000 apps have been developed in the past 3 years. (mobithinking.com)
35% of adult Americans who own a smartphone and tablet have a VoIP app installed on at least one device. (Rebtel)
There were a total of 193 million VoIP subscribers worldwide in 2012 and is estimated to reach 300 million by the end of 2013. (eMarketer)
14% of the global online community, and 29% of online American adults, have had an audio conversation using VoIP. (Pew Research)
Facebook:
54% of Facebook members have used the social network via a phone, and 33% use a phone as their primary way to access Facebook. (socializeme)
Everyday, 684,478 pieces of content are shared on Facebook. (mediapost.com)
23% of Facebook's users check their account 5 or more times DAILY (ignitesocialmedia.com)
Almost half of all people surveyed say Facebook has the greatest impact on purchase behavior (up from 24% in 2011). (socialnomics.net)
Each day Facebook users spend 10.5 billion minutes (almost 20,000 years) online on the social network. (bootcampdigital.com)
An average of 3.2 billion likes and comments are posted every day. (socialmediainbusiness.com)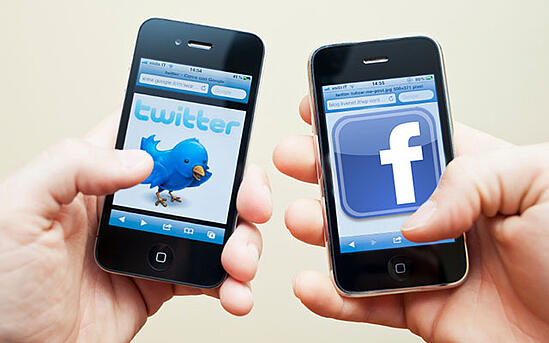 Image Source: Mashable
Twitter:
Twitter users are 33% more likely to be Democrats. (Tweetaholic.com)
The typical Twitter user is a 28 year-old English-speaking woman with 208 followers, an iPhone and likes the color purple. (Beevolve)
53% of Twitter users have been a member for less than a year. (Mashable.com)
The average Twitter user has 27 followers and a whopping one in four Twitter accounts have no followers. (Thesocialskinny.com)
55% of Twitter users access the site through their smartphones. (Adage.com)
Top 3 countries on Twitter are USA at 107 million, Brazil 33 million and Japan at nearly 30 million. (JeffBulas.com)
LinkedIn:
As of August 2, 2012, LinkedIn reported having over 175 million members with 2 new members joining every second (LinkedIn.com)
62% of LinkedIn members are located outside of the United States. (Aimedsales.com)
LinkedIn is the 36th most visited website in the world. (JeffBulas.com)
47.6% of members spend between 0 and 2 hours on the network per week, while 10.5% spend more than 8 hours per week! (PowerFormula)
Other Networks:
Nearly three-quarters of Americans are unfamiliar with the concept of checking in to a location via mobile device, and only 3% have ever checked in on Foursquare. (Grabstats.com)
65% of Pinterest's traffic is from the US. (Sandbox.com)
Pinterest users spend an average of almost 16 minutes on the site per visit (12.1 for Facebook). (blog.sharaholic.com)
The average user spent only 3 minutes on Google+ in Jan 2012. (Website Monitoring.com)
67% of Google+ users are male. (GoogleBlog.blogspot.com)
YouTube is the 3rd most visited website according to Alexa with 2 billion views per day, which equals 10% of the internet's traffic! (Go-Gulf.com)
Over 829,000 videos are uploaded to YouTube every day. (Speakymagazine.com)
Were you surprised by any of these statistics? We certainly were... especially the tidbit about the average Twitter user being an English-speaking female who likes the color purple! Share your 2012 social media and mobile technology surprises, highlights and observations with us in the comments below or by connecting with us via our social networks --
Facebook
,
Twitter
and
LinkedIn
.