Social media is an integral part of our daily lives and chances are the connection doesn't stop when you walk into the office. Although some workplaces are lax on their usage rules, others ban networking sites altogether -- placing a greater taboo on being caught chatting, Liking and poking while you should be putting in hours.

If social media is a no-go at your 9 to 5, you've probably mastered a few tricks for dodging the social media police (aka your boss!) like connecting via your smartphone, using a desktop client like Voxox to evade the higher-ups monitoring your web history or hiding your Twitter addiction in the form of a mock Excel worksheet, but the reality is you're not the only one. In fact, a recent survey of 1,105 American workers shows that a large majority of them are accessing social media sites throughout the work day, whether it's allowed or not.

Check out the full survey results below to see how your workplace ranks!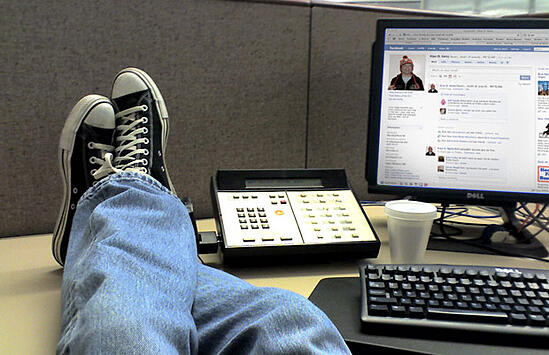 Source: edudemic.com

Who's logged in on the job?:
Six in 10 employees access social media multiple times a day at work
60% of workers said that they check personal social media more than once a day on their mobile devices
Three out of four workers check social sites from their mobiles once a day or more
What are employees doing on social media?:
Nearly half of those logged in to social media are connecting with coworkers
44% are connecting with customers
47% are using social media as a fun platform to connect with others
Either for professional or personal use 70% say they access Twitter at work and Facebook follows at 65%
Are social sites monitored at work?:
43% of respondents said they worked in an organization where social media access was completely open

Just under a quarter said that access was monitored
16% said that social media access was completely blocked
Only 23% have a specific policy regarding use of social media
97% said that their employer or potential employer had NOT asked for their social media passwords
Interestingly, these survey results show that a majority of people are not using social media for personal reasons, but rather to do their jobs by connecting with both coworkers and customers during work hours. So why is it that nearly 1 in 5 businesses block social media? That we can't answer, but if your workplace falls into the "completely blocked" category... remember, you can always connect to your favorite social and chat networks via Voxox for desktop (to link up with customers and co-workers for work-related purposes, of course!) and no one will be the wiser.
Now that you have the numbers, tell us how your office social media policy stacks up and how (or if!) you use social media at work. Post in the comments below or connection with us on Facebook or Twitter... just don't get caught browsing on the job!