With the arrival of summer come backyard BBQs, trips to the lake and days spent enjoying the
great outdoors.
Back in the day, a Walkman and a few speakers may have impressed your friends on these outings, but this is 2012 -- so with a little help from
Mashable
, we tracked down the hottest gadgets to help you make the most of your days in the sun.
No matter what type of activity you're into -- work, play or maybe a little bit of both, we've got something here for you. Check out these must-have goodies:
1. Make an Office Out of Any Room!
All work and no play? Not on our watch! We believe that working shouldn't slow down your sun-seeking travels, so here's a stylish and compact tool that lets you make an office out of any room. If you have a Bluetooth-enabled laptop or phone you can hook up to the Jawbone Jambox for wireless, portable audio and speakerphone calls.

2. Project Movies, Video Games, etc. from Your Smartphone or Tablet
Who needs a cramped theater and overpriced popcorn when you've got movies streaming in your backyard? The WowWee Cinamin Slice Pico Projector hooks up to your smartphone, computer or tablet and projects movies, video games and photos onto your walls, ceilings or even the side of your house!

3. Blast Tunes Straight from Your Phone
Eton Rukus Solar is a wireless boombox that plays tunes straight from your phone. Since it runs off the power of the sun, as long as you can get a tan, you can rock out. Adios, batteries. Hello, Dougie!
4. Access Your Favorite Fitness Apps From Your Watch!
This watch is still in production, but that hasn't stopped smartphone users (the kind who love to bike, run, swim and basically sweat) from sending it to back order! The Pebble Watch is the first watch to sync with iPhone and Android devices, allowing access to fitness apps -- making the perfect outdoor accessory for any physically active techy who doesn't want to risk ruining their smartphone during a workout!

5. Stay Connected While on the Go with Voxox Call for iPhone
So how do you stay in touch when you're on the go this summer?
Voxox
of course! With
Voxox Call on your iPhone
you can call, text and even fax for super cheap. Forward your work number to your Voxox account and you could make your next work-from-home-day a day at the beach without anyone being the wiser!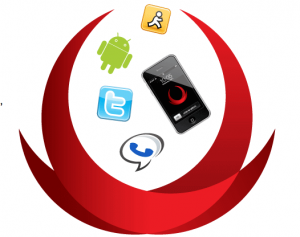 There you have it folks, a list of the most-desired gadgets for summer 2012. Do you already own one of these fancy gadgets or are you do you have another tech must-have in mind?
Let us know what tech brings your outings to the next level in the comments or on the
Voxox Facebook page
!