The Voxox team isn't just your ordinary group of geeks, we're a group of wild and enthusiastic people who love what we do! "Just another day at the office" doesn't apply here. Whether it's Nerf gun wars, free ice cream extravaganzas, or Monday morning bagels, there's always something for us to get excited about! Get to know the team with our
behind the scenes, Q&A style blog series, "The People Who Make Voxox Rock"…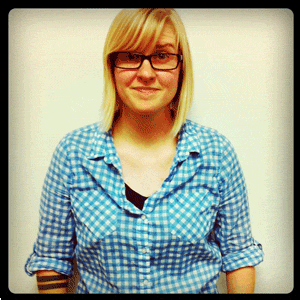 Nickname: Beers



Department: Operations



What is Operations?: It's a team that facilitates everything from Voxox consumer support; to customer service for our business clients (our Voxox In Business division); to the deployment of physical hardware, phones, servers, etc. here at Telcentris Inc. We solve problems, analyze data, identify trends, and whip up charts to show execs financial performance. I also like critiquing the bagel selection. Gotta wear a lot of hats in a start-up, yanno?



When you joined the Voxox team, what did you expect?: Well, not this. The office will sporadically blow up with Nerf gun fights, we celebrate birthdays, and have fun together. Working at a start-up that's family-run lends itself to a more relaxed attitude. I can wear what I want, and I think the perception that dressing like you're a businessperson isn't what makes you a respectable employee here. It may seem unconventional, but it's nice.



What's your favorite part about working here?: Not the Nerf guns. I personally have a lot of freedom to develop my skill-set how I feel fit and for what best suits my team. I learned mySQL, and am in the process of teaching myself Perl and PHP. There aren't a lot of jobs that would give you the freedom to learn these programs, so for my team to be OK with me spending time broadening my skills is pretty cool.



What are your hidden talents?: I've played bass guitar and sang backup in a few bands; a 3 piece grunge band, Pariah Piranha, and rock band, Via Satellite. We toured around a lot on the East Coast, playing in places like Baltimore, the Carolinas, and D.C. I actually ended up moving to D.C. after our tour because I just fell in love with the city and the people I met there. I'm also really good at video games – I like Assassin's Creed and Little Big Planet 2, which is a child's game, but Mario 3 is my favorite game of all time. It reminds me of being a kid and it's still challenging. When I was 8 years old, I could beat it, but I can't beat it today. How is that possible? I get caught on the desert and water worlds; all the quicksand, and the sun with the armadillos. The desert levels kill me.



What's your greatest personal accomplishment?: My parents are very proud of me and I'm really happy about that. I moved to California by myself, without anything, and that was really scary. I have a 2-year Associates Degree in Electronics Engineering, which isn't really related to my role with Voxox, so I'd say I'm most proud of my work life. It's nice to enjoy work and feel like I'm good at something.



What've you learned since you've been with the company?: So much it's hard for me to speak to it. But most importantly, my confidence level in general has improved since I've been forced to interact with customers – it's not easy to talk on the phone with people!



If you could witness any event past, present, or future, what would it be?: I would like to have been at the Roswell crash.



What's your least favorite chore?: I hate doing dishes. For real, they smell bad. I just got a dishwasher, actually, so that's a big upgrade in my life. At first I didn't know how to use it because I've never had one before - give me a break, I grew up in a log cabin in the middle of the woods.



If you were reincarnated as a color / drink / ice cream flavor, what would it be?: Green / Beer / Peanut Butter Ripple



Which animal do you least resemble?: An African Swallow



Mario or Luigi?: Mario 4 Life



Is it a pizza or is it a pie?: Where I'm from, it's pizza, but during my recent visit to New York, I repeatedly heard it referred to as 'pie'. However, they also say 'standing on line' instead of 'standing in line', so that sort of negates all of their preferred vernacular.



What should people know about Voxox?: Our rates are awesome. If you're calling someone internationally, it's a super affordable way to get in touch with them.



If you're feeling in the dark, like we left you hanging, and you just can't get enough of "Beers," ask your questions here or on the Voxox Facebook page! We promise to answer them, so you can sleep at night...