In the spirit of Bad Poetry Day (which is today!) and for your reading pleasure, the Voxox team got together and wrote an awesomely bad poem on the benefits and features of VoIP service.
How did such a beautiful composition come to be, you ask? Over the past few days, a paper has been floating around the office requesting that each team member to write a line based only upon the line before it. This has been a masterpiece in progress and we're pleased to share with you our ode to Bad Poetry Day:
The Wonders of VoIP
If you know what VoIP is, you know of its wonders,
No more crazy phone bill and/or cell tower blunders.
So many cool features, you can call all the zones,
Hosted, SIP Trunk, white label for so few bones.
We're battling the clones with service that totally pones,
At prices that mean sweet service without any loans.
All Poems should rhyme, especially when they're about VoIP.
Who needs the competition? Don't give into the hype,
Get to picking now, while the pickings ripe,
Unify your communication! Unify your life!
Ask for VoIP, then watch and learn how simple it can be,
You'll love G722, the HD codec, when called on-net it's FREE!
I talk, I chat, I live in a numberless landscape of your whispers,
I thought to text you, but it was fleeting, like the cooling of Las Vegas misters.
Instead, I called you and your "Find Me" was set to every phone device nearby,
Creating a ringback racket louder than the introduction of Pink Floyd's "Money!".
'Cause I'm out in the club and I'm sippin' that bubb, and you're not gonna reach my telephone --
You'll reach my personal assistant!
That's what they (girls) all say, it's a good thing I'm persistent.
When life's lemons get in my way, just make an adjustment,
With calls that cost just cents, even from a tent!
VoIP is the flower like bees makin' honey,
And if you live in Australia, you can call from the Dunny*,
*Definition of Dunny

: Dunny or dunny can is Australian slang for toilet, either the room or the specific fixture, especially an outhouse or other outdoor toilets. It is often used to specify a distinction between a flushing toilet and a non-flushing toilet (e.g., a longdrop or thunderbox). (Source: wiki).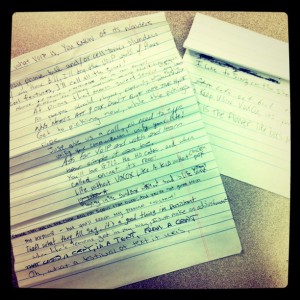 "The final product. Crumpled and perfect!"
Poetry at it's finest, right? We've gotten in touch with our Shakespearean side, now it's your turn! Share your bad poetry right here or on our
Facebook page
...