If you've seen our Facebook page, you've noticed VoIP, the Voxox Alien, in photos with landmarks, famous paintings, and in cool spots all around the world. These photos are part of the "Where in the World is the Voxox Alien?" game, a contest where we post a picture of VoIP, the Voxox Alien, and you try to guess where he is based on written clues and hints in the photos.
We just wrapped up the second round of the contest (part deux), and you all came up with some awesome answers! Unfortunately, there can only be one winner. That being said, congrats to Bill L., the lucky winner of an intergalactic Voxox prize pack for the most correct guesses! Check out what he won...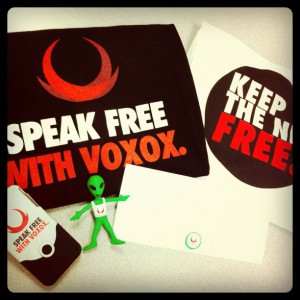 ... jealous, right? Bill won two awesome t-shirts, a Voxox iPhone 4 case, snazzy KeepTheNetFree stickers, and a personal VoIP, the Voxox Alien, to take on his own adventures and maybe even post some photos for us to guess where he goes next! Plus, there's a secret message from VoIP himself!!
If you want to get in on the action, stay tuned to our Facebook page for product updates, announcements, and more chances to win cool stuff!