Are you ever jealous of those pedal bikers who cruise by you on your way to work while you're sitting in traffic? Then tomorrow is your "no excuses" day to join them and avoid the traffic jam because it's National Bike to Work Day! National Bike to Work Day encourages people to try bicycle commuting as a healthy and safe alternative to driving.
Excitement and anticipation has started to spread amongst the Voxox crowd here in San Diego. We have groups planning to meet and bike to work together, with mapped out routes courtesy of iCommute. This commute should make for some great photos, especially since our office sits on top of a giant hill!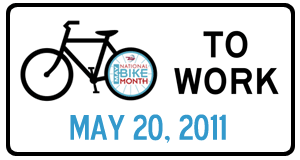 Since the awareness of National Bike to Work Day has been making its way around the office, some folks have already requested back-up transportation if "strenuous conditions" get the best of them, and a "most awesome bike" photo competition has started taking over email in-boxes -- a winner has yet to be determined.

Now it's time for you to get involved! If you haven't taken your bike for a spin in a while or if it's in need of a tuneup, don't fret, there are plenty resources, safety tips, and break stations to help you get to work safely, hydrated, and fed. Search the National Bike to Work Day list of events for more info on what's happening where you are. Happy Biking!

P.S. If you have good photos of special biking moments, please share them with us on our Facebook page or Tweet @Voxox!