Hope everyone had a great Valentine's Day! We sure did as we looked through our Voxx Facebook Valentine's Day contest photo submissions for a blind date for our CES Alien... So who won?
[
Allison B. thinks only a princess is worthy.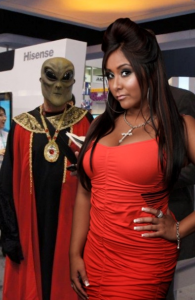 Jorge G. thinks the Voxox alien would have a solid shot with Snooki



Or Sean W. thinks perhaps "Yaddle", the female of the Yoda species?



!
According to Matt B. this astronaut would be a match made in heaven
Matt H. thinks maybe this sassy lady?
Although Snooki was the funniest by far, we didn't want to turn our Alien off to the entire human race. So the winner is... Futurama! Congratulations Heidi S., enjoy your free Voxox T-shirt!
Thanks for all those who participated and helped our Alien find love this Valentine's Day!... and remember, Speak Free with Voxox!