If you've ever hosted a holiday party, you know it can be a madhouse. Guests call you last minute about all sorts of stuff, like asking for directions, what to bring, where to park, and so on. You want to be available to them, but whether you're running party errands or running around the house in preparation, you don't want to think about which phone might be ringing and where. Now, wouldn't it be nice if the phone could just find YOU?
Well, that just happens to be our specialty! Voxox lets you manage all your phones from a single phone number. With our call routing feature, Voxox Find Me, you can create a common link between all your phone numbers – mobile, home, work phone, and so on – and then set all your phones to ring in sequence or simultaneously.
Say you''re in the kitchen preparing for your 4th of July BBQ this weekend. You hear your cell phone ring and realize that you have no idea where it is! You may feel an urge to run like a chicken with its head cut off to find it and see who's calling, but then you remember – you've set up Find Me to route the call to your home phone next. So, you can just dry off your hands and get ready to pick up the kitchen landline phone. Relaxing thought, no?
This type of rolling call forwarding can be really useful beyond party planning. With Find Me, you can be more accessible to the "VIPs" in your life (spouse, kids, elderly grandparents). You just give them your Voxox number, and they'll be able to reach you anywhere -- work, mobile, home, a cabin in the woods -- without having to dial a long list of phone numbers. Or, you can use Find Me for your business contacts. Say you want to be accessible to work colleagues and clients when you're not at your desk, but you don't want to give out your personal cell phone number. Just give out your Voxox number, and turn on Find Me during the work week. This can also be handy for business travelers, as Find Me can forward calls anywhere, even to a hotel room overseas!
So, here's how you set up Find Me:
Go to Tools > Settings > Phone > Find Me, and enter all your other phone numbers in the order you'd like them to ring: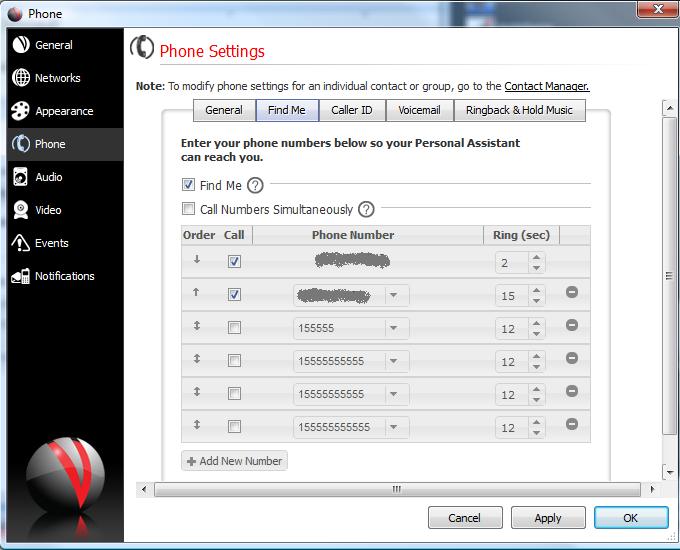 The numbers you select with a check-mark will ring in sequence.
If you prefer to have all your phones ring simultaneously, then select the "Call Numbers Simultaneously" option.
Set the number of seconds you want each phone to ring and then hit "Apply."
If you don't pick up, ultimately the call will go to Voxox voicemail. Read about how to access your Voxox voice messages here.
You can add or remove phone numbers any time by coming back to this Find Me window within the Voxox client, or by calling your Voxox number, entering your 4 digit pin code and selecting the "Settings" option.
Don't forget that in order for Voxox Find Me to kick in, you need to provide callers with a Voxox phone number. This doesn't mean that you need to get rid of any of your existing numbers – just think of the Voxox number as your "umbrella" number that covers all your phones, but if you want to be reached specifically on your cell phone or another device, then by all means, give that number out. If you'd rather not provide a new number at all, there's a way to forward your mobile phone number to Voxox.
So that's it – you have all the tools to be totally accessible to all your 4th of July party guests this weekend and beyond! Now go change your RSVP phone number on your Evite to your Voxox number, take a deep breath, relax, and host your party with ease.
Have you tried Find Me yet? Please share a comment here about how it has helped you or someone you know, we would love to hear your story!