Most moms "get" technology these days. While they prefer a good old fashioned greeting card, they're just happy to hear from their babies, any way that communication comes. A lot of moms, young and old, are now up to date with the Internet – my mom is almost 75 and uses email regularly.
Sending mom a link to
Voxox
will give her even more access to keep in touch with you on a regular basis. When she sees all the possible ways you can send her your love, it will make her day. So, why not start with Mother's Day?
Here are five ways you can wish her a Happy Mother's Day via Voxox:
1. Call her on-the-cheap
My mom's in Canada and she thinks I spend big bucks on phone bills (makes her love me even more). What she doesn't know is that it costs 1 penny per minute to call Canada from Voxox!
Plus, when you sign up for Voxox in the U.S. or Canada, the first $1 worth of Voxox credit is on us*,
so you can call a
bunch of places worldwide for super cheap
.
It's so easy too – just find her on your contact list, right click to select the contact, and then press the little phone icon. You'll be giving her a call in no time!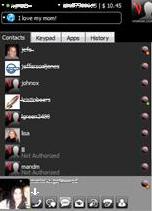 And, if she's not in your contact list, just go for the keypad tab: