Well here we go again… an
award here, an award there
– a list here, a list there…..it just keeps getting better and better!
If you've been keeping track of the
Voxox Blog
, you'll know that the list of awards is growing. Now, to add another feather (or two) to our proverbial caps,
Voxox was named
to
PC Magazine
's prestigious annual list of "Best Free Software" for 2010. According to
PC Magazine
, the 2010
list
consists of 196 programs that "cost nothing but will make your computing life richer -- all while keeping your wallet fat."
Believe me, in these economic times it's pretty tough to maintain a "fat" wallet and we're very happy to be able to help with that!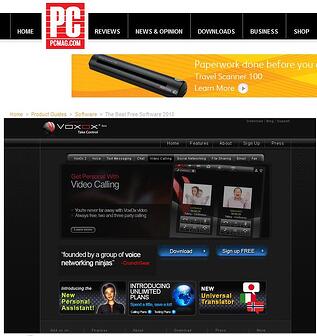 "Look familiar?"
We've also been named to the top 50 list of the most disruptive Voice over IP (VoIP) service providers by analyst firm Heavy Reading in the report titled, "Disruptive VoIP Services: What Carriers Need to Know," by analyst Robert Poe.
Here's a snippet from the
report summary
:
"[VoIP] is the most potentially disruptive telephony technology since the birth of the industry, changing every aspect of making and delivering phone calls...The last few years have seen the development of new kinds of VoIP services with great potential to disrupt the telecom market."
In this report, "disruptive" is good, not bad (unless you're a traditional phone company)…it's like "phat" not "fat," or "sick" and "bad" being actually good. Well, you get the drift here.
We are honored to have been named to both of these lists and appreciate the recognition that Voxox is receiving!
Some recent awards:
Until next time... and keep on Voxing!