You may have heard Voxox referred to as the first and only "Universal Communicator" service that integrates all popular communications channels – voice, video, chat, SMS, email, fax and file sharing – into a single interface.
But how does that work, exactly?
Well, say you're doing some online shopping for Valentine's Day, and you see concert tickets on sale for Wednesday, Feb. 17. It's on a weekday – and you need to reach your Valentine pronto to make sure that night is open for the "surprise."
Plan of action:


Check your Voxox Universal Address Book, which is your buddy list comprised of your friends on various IM and social networks. It will immediately show you if your Valentine is online and on which network. (For example, looks like my buddy Bryan is on Facebook right now… see the little green light in the corner of the Facebook logo below?)

\
Next, select the contact and click on one of the communication methods (the row of icons on the bottom of the contact highlight). If your Valentine is on Facebook, maybe start with a chat – it's the second icon from the left.
As soon as you click on "chat" (or any of the neighboring communication mode icons)…. voila! The Voxox Universal Messaging Window appears. See how the "chat" tab below is selected on the top panel? This means you're in chat mode. Go ahead and shoot him (or her) an IM, which will appear in his Facebook chat window. To him, it will look like you're on Facebook as well, even though you're actually using Voxox.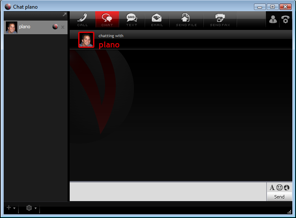 Uh oh … you just noticed that there are only two concert tickets left! Emergency mode: Attempt to track him down all possible ways by switching communication modes in the Universal Messaging Window: text him, call all his numbers (stored in Voxox), email, and, send him a fax!! Just kidding about the fax.




Well, hopefully one of these communication channels got you through.

And, if you want to test whether he even likes this band before you buy the concert tickets, send him an mp3 of one of the songs via Voxox's file-sharing capabilities (the Send File tab) and see what he says. You can send this file anyway you prefer – email, sms, even Facebook chat, which is pretty cool because there's not really a way to transfer a file privately to a Facebook friend.


So, here's to being efficient thanks to the Voxox Universal Messaging Window!