NOTE: Updated on 11-11-09 to include Ping.fm.


I heard a great catch phrase at the recent Blog World & New Media Exp in Las Vegas: "status-phere."


Put forth by PR and social media strategist/author Brian Solis (@briansolis) during one of the keynote panels, it instantly struck a chord.


Status-phere. To me, it's defines the work aspect of social media.


To engage, contribute, share and generally participate within social media and social networking, you must typically update some type of status, whether it's up to 140 characters on Twitter (and on LinkedIn for that matter), or a general status update on Facebook, MySpace, Yahoo, MSN or the myriad of other networks out there.



So how to contend with the all-consuming "status-phere"? How to participate effectively in social media and its many benefits without making it a part- or full-time job (not to mention putting up with a confusing array of browser windows and desktop clients)?



One way is to focus on the specific networks you find valuable. Another is to leverage an increasing number of tools that can help manage the task. These include services that can help manage multiple accounts on the same network (usually Twitter), and those that aggregate and help simplify updates to multiple networks.



Here's a short list below. We'd love to hear your recommendations: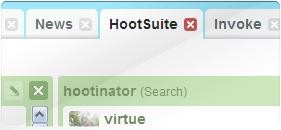 HootSuite's Tabbed Layou


• HootSuite – This web-based application is an extremely handy tool for managing multiple Twitter accounts. We use it at TelCentris to manage our consumer (Voxox) and business-to-business accounts, easily toggling back and forth between our different profiles. It allows you to schedule Tweets to any of your accounts, as well as create shortened, trackable URLs.


• Ping.fm - I missed this one initially, but Ping.fm is one of the more comprehensive tools for integrating and aggregating your social networking clients, everything from Twitter to Bebo to Delicious. A recent test to update Facebook and LinkedIn simultaneously went swimmingly. Ping.fm also purports to handle instant messaging and SMS as well. One thing I like is the ability to search and post song links.



• Trillian Astra – Known more for its ability to chat across multiple IM (instant messaging) networks at the same time, Trillian, which has been around since 2001, also has added functionality to update your Facebook, Twitter and Skype accounts. Although available for the iPhone, Trillian fans are still waiting for a Mac version.



• TweetDeck – TweetDeck continues to add new functionality to help you integrate your social networks. TweetDeck was one of the first to add Facebook functionality. They recently added MySpace. If you like managing your social networks in a power dashboard format, TweetDeck is good option.



• TweetMiner – Like HootSuite, TweetMiner enables you to manage multiple Twitter accounts from a single interface. I like TweetMiner mostly because of its simplified interface, and the way it allows you to search and post interesting news articles to your followers. You can manage up to five accounts, or upgrade to get increased functionality.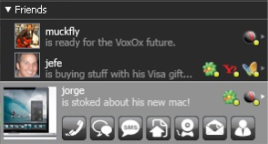 Voxox Enables Users to Update Social/IM Networks


• Voxox – You're probably not surprised to find Voxox on this list. Still in beta, Voxox provides powerful functionality to update multiple social networks from one interface. They include Facebook, Twitter and MySpace, as well as MSN and Yahoo (both of which are turning their email portals into quasi-social networks). Like Trillian, Voxox also enables you to update all major IM networks. It also goes one (or two) steps further by providing free Internet calling and better-than-Google Voice-type features. All from a single, unified interface.



'Status-phere' got you bogged down? Try these tools to help you ease your communication overload.



Do you have other tools to recommend? We'd love to hear them.