At last!
Voxox
2 launched this week and has hit the ground running. Last week Kevin, Michael and I traveled to New York and San Francisco to meet with press and demo this newest version of Voxox, which incorporates feedback from you, our users. Each press meeting was exciting and unique. We stopped by Fortune, which had an old billiards table as a conference table, reminiscent of the times when editors smoked their cigars while playing pool and contemplating their next cover, and INC, which had an amazing view of Ground Zero, a nostalgic reminder of the tragedy but also a realization that people do rebuild … and everywhere in between.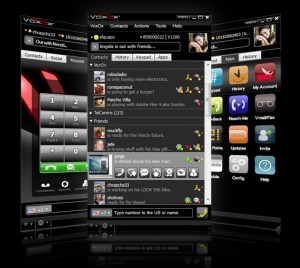 After many months of hard work, Voxox 2 is finally out and ready for primetime! I am ecstatic. Thus far, the feedback has been beyond our expectations. In revamping Voxox, we listened to your feedback and continued to develop cool ways to manage your communication overload. From now on, forget multiple screens, multiple IMs, multiple status updates – you can do it all from a single interface, and still keep your favorite programs running in the background. A few of my favorite new features include the
Personal Assistant
(if you haven't seen her, she's a cutie - but you can also change her personalty to a male voice), which can answer your calls and then screen or route them based on your preference and the caller. I also love the two-way worldwide texting from your Voxox number and the really awesome Facebook, MySpace and Twitter IM integration. I think you'll enjoy trying them all out, too!
As excited as we are (and we hope you are too!) about Voxox 2, I should remind you that the product is in beta, so you may experience some minor glitches in your user experience. Any potential bumps in the road will only help us improve and propel our next version of Voxox to even higher success.
At TelCentris, we are constantly growing and learning as a company, and trying to make our product the best it can be. We take our users' feedback very seriously. We've listened to all of the issues and bugs you encountered with Voxox, and coupled that with your very apt and innovative suggestions to make Voxox 2 the most robust and user-friendly "Universal Communicator" service.
So readers, we'd like to hear from you. Don't like a feature in Voxox 2? Is something not working properly for you? Is there a feature you would love to have included? Share your thoughts and I will address some of your comments in my next blog entries.
Please get in touch – user comments, compliments, feedback and constructive criticism are all welcome!