There's an app for that. And that. And that. And that.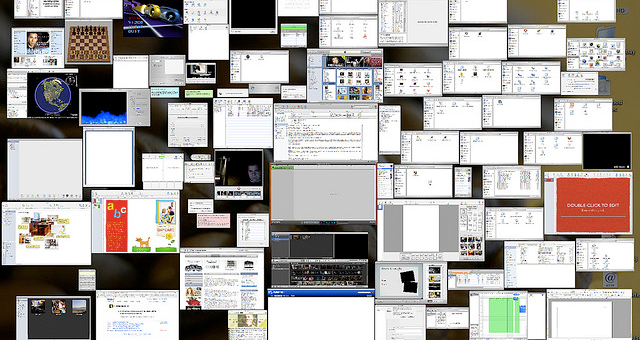 Sound familiar? As innovative and useful as most apps are, every smartphone user suffers from the new affliction of "app overload." In a recent NY Times article, tech reporter Jenna Wortham talked about how she has 259 applications on her iPhone, of which she only uses about 16.
"I asked a few friends, and their behavior is similar to mine," said Wortham. "One friend who lives in Los Angeles said he had 150 applications installed on his phone. He estimates that he uses about 15 on a daily basis. Another friend, this one in New York, told me he had 104 apps on his phone and used around 20 regularly."
This data is backed up by Lopez Research Mobile Analyst, Maribel Lopez, who confirmed the notion to The Mobile App Testing Blog, stating that on average there are about 75 apps on people's phones, and they use about 11 of them.
And why not? With over 800,000 apps on iPhone and 800,000 on Android, it's easy to become overwhelmed by the staggering amount of "convenience" your phone can download and store.
Users waste time trying to find and open specific apps, negating any timesaving conveniences. And when a user downloads app after app after app, it's easy to lose track of ones the phone now has and how to find them when needed. So, users are downloading more apps and with increasing frequency, but not integrating them into their daily lives.
One answer to this dilemma is to find an app that does multiple tasks at once. But where to find one that allows you to multitask, saving time and energy?
Why, Voxox of course! Just about a week ago we quietly published a revamped version of the Voxox iPhone app, which allows users to call, text, share content and fax all within the same iOS application. Then there are the cool additional features too, like language translation in real-time, conversion of voicemails to text, call recording, and location sharing.
That's one hardworking program!
Did we mention this is a FREE app? Calls and texts to other Voxox users is also free and unlimited.
And with our clean, fresh new website and increased customer support, your Voxox experience is better than ever before.
So save yourself the hassle of finding a handful (or truckload) of apps and stick with Voxox. It just may be the answer you've been looking for.