Alexander the Great used superior speed and strategy to conquer the massive Persian Empire before his 27th birthday. Five years later, he wept that there were no more empires to conquer.
Today, there's another war of speed and strategy going on. It's the battle for monetization being waged between OTT communications and traditional carriers. OTT has speed on its side. The nimble OTT app industry is already satisfying the communication needs of the mass market without the IMS, RCS and VoLTE of traditional carriers.
And people who use these OTT apps are accustomed to communicating for free, making VoLTE and traditional carrier monetization more challenging.
Moreover, cloud-based freemium VoIP apps have disrupted the VoLTE market opportunity, by leveraging a significant first-to-market advantage. Thus, the operators are scratching their heads trying to decide how best to monetize IMS, RCS and VoLTE-enabled networks.
VoIP Partnership
So how can operators deliver communication services over their networks? Simple: By partnering with a more nimble OTT VoIP provider.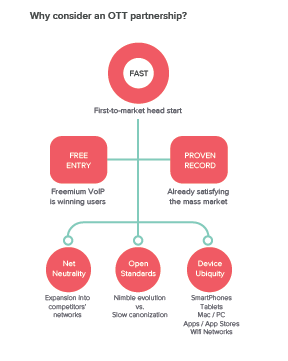 Here are some of the ways a VoIP Partnership can help negotiate a truce in the OTT war:
• The Net Neutrality advantage. Net Neutrality has offered a competitive advantage to OTT players. It can do the same for MNOs, making it possible for them to provide VoIP services over their competitors' networks.
• Open Standards are winning. The era of taking a year or more to publish an industry standard is coming to an end. The more collaborative open standards community is evolving communication standards (e.g., SIP) at a much faster pace.
• Device ubiquity. Availability of smartphones, OTT communications apps, App stores 3G, 4G, and Wi-Fi networks are currently fulfilling the demand gap created by the lack of RCS and VoLTE-enabled cellular networks.
A Collaborative Future
Clearly the OTT revolution is underway. The unprecedented growth in OTT is causing MNOs to find ways to scale their networks and adapt their architecture to meet demand. They're finding the fastest way is to partner with an OTT VoIP provider.
The collaborative movement is industry-wide. Key data shows that operator interest in OTT communications solutions has risen sharply in just one year. Some 44% of those participating in the CMO Council's study last year were actively exploring OTT partnerships and revenue-sharing opportunities. The smart players are viewing the OTT revolution as an opportunity, rather than a threat.
It seems that in the OTT battle, alliances are fast becoming the winning strategy.