Thinking of switching to VoIP communications for your business? Not so fast! While there are many huge advantages — major cost savings, maximum flexibility and increased productivity — it's important to educate yourself on this fairly new technology and make an informed decision.
Following are five essentials tips to keep in mind.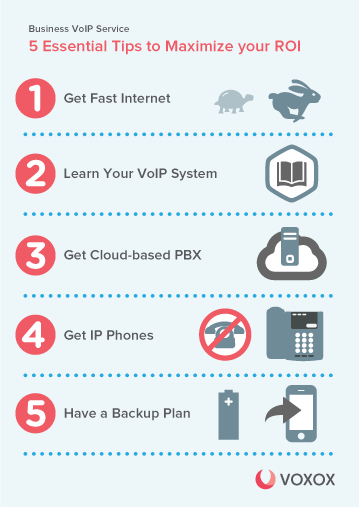 1. Get the best Internet connection
The first and foremost requirement for business VoIP service is a reliable Internet connection, ideally broadband. And speed is king. A slow Internet connection can ruin even the best VoIP service. Delay in voice delivery because of a slow Internet connection is known as latency. This is what causes those annoying phone conversations where you and your customer keep talking over each other. Not a great way to conduct business.
But there's good news. Business Internet connections come with assurances regarding uptime, latency, and other factors. For example, your ISP might guarantee 99.9 percent uptime and, if they don't meet their service promises, they will refund some of your service fees. These assurances are usually canonized in a document called a Service Level Agreement (SLA).
2. Learn your system
Being familiar with your business VoIP system will save you a mountain of headaches when problems arise. Though VoIP is reliable, things happen and knowing how to troubleshoot the small stuff could save the day.
Business VoIP service offers features that traditional phone lines can't provide. Take the time to educate yourself on their use. Know how to reset your modem, router and IP phones/ATAs. Be able to access your admin panel (your VoIP service provider will help you with this).
Most businesses end up using their VoIP systems exactly the way they used their old phone systems because they don't take the time to learn all the features that make VoIP so powerful.
3. Get a cloud-based PBX
Your PBX (private branch exchange) is the brain of your VoIP system. It saves you the cost of a line to the telephone company's central office for each user.
If you're new to the VoIP game, there's no need to buy, install and maintain an on-site PBX. With cloud-based VoIP, the PBX of your phone system resides in a secure data center. A cloud-based service from a trusted provider like Voxox, can get you advanced business communications in the form of pay-as-you-go service. All you have to buy or lease are the phones, routers and local area network. Instead of an upfront cost for a server, you simply pay a monthly service fee based on the number of users and type of calling plan you have.
4. Get IP phones, rather than an ATA
IP phones are a popular choice for every size of VoIP business — from home offices to large corporations. Concurrent calls are only limited by your available bandwidth.
IP phones have several usability enhancements when compared to analog phones.
Caller ID is delivered instantly, rather than in between the first and second ring.
Audio quality is typically higher — most noticeable when making calls from IP phone to IP phone.
You can tap the hook and have it disconnect the call immediately, without inadvertently starting a 3-way phone conference.
When you press "Redial", the phone starts ringing instantly, without having to dial.
Visual call waiting may be silent.
It has been reported that conference calls and speakerphones perform better.1
5. Have a backup plan
Telephone communication is the lifeblood of your business. If you have VoIP, you'll need to have a backup plan in case of power or Internet outages. For business customers, these two steps are recommended:
Have a battery backup source or UPS in case of a power failure. For under $100, you can get a battery that will keep your modem, router and phones up and running for several hours.2
Learn how to forward your business phone numbers to another phone, such as your cell phone. It's a quick way to maintain business in a crisis.
Do your homework. Talk to other business owners who are using business VoIP service and see what their experience has been. The key is finding a service provider with a reputation for great support, to help with the learning curve when implementing a new VoIP system in your business.
References
1. Toao.net, ATAs vs. IP Phones: Which should you choose? September 2009
2. Gary Shouldis, thesmallbusinessplaybook.com, The Essential VoIP Guide For Small Business