Before - People love makeovers. We're fascinated by the process of transformation — of seeing potential where some only see "glasses and a ponytail." In the OTT world — which you are a part of if you're using any communications app on your smartphone — we've seen an evolution right before our eyes. From absolutely zero pimped-out features to practically limitless possibilities.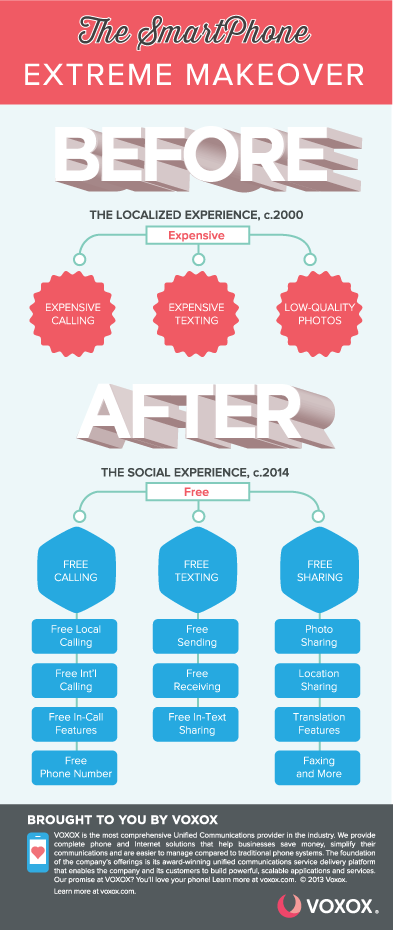 Not long ago, calling, texting and low-quality photography were all we could ask from our phones. And it wasn't free. We accepted it. We dealt with it. Even though deep down, we had a vague sense of having our arms tied to our sides. Need to forward a call? Couldn't do it. Call transferring? Oops, sorry. Share your location? Forget about it.
Making phone calls — and international calls in particular — was expensive. If you were a college student, you had to choose: buy groceries or call your sister in France on her birthday.
Fortunately for us mortals, there are some visionaries who just won't settle for anything less than total communication domination.
After - Meet the new prom queen. Voxox has taken the plain old cell phone and given it a sexy new makeover. No longer limited to the most basic functions, Voxox's eponymous free phone call app puts the phone company in your pocket. And not just any phone company, the most sophisticated phone company on earth, offering not only free calling and texting, but free phone numbers, media sharing, location sharing, group messaging, voicemail transcription … the list goes on. THAT'S consumer power!
No longer does there need to be a choice between talking with family and eating a meal. With Voxox, one of the top free phone calling apps, it's not only the app that's free: Nationwide and international calls and texts are also free, to any phone in the world, as long as your contact is also using Voxox.
Now, you have phone features you'd see in a James Bond movie literally at your fingertips! Imagine you're 007 and you've intercepted a text from another spy but it's in Turkish. Since your Turkish is most likely a bit rusty, just turn on Language Translation in your Voxox free phone call app. Voxox will automatically translate the text messages you send and receive to and from dozens of languages.
Let your friends know where to meet you before prom with Location Sharing. When you get a voicemail message and all you can hear is the band, Visual Voicemail makes things easy by transcribing the recording into text.
It's all the coolness and convenience of advanced features, without any cost. How is that possible? Voxox is a registered United States and international telephone company. And because of this, Voxox can give away free calling and messaging to any phone on the planet, unlike any of the other free phone call apps. Voxox also gives you $1 worth of calling and SMS credit each month.* Because of super-low international rates (about one-tenth those of Skype's), this monthly dollar can add up to free calls to anywhere in the world.
With Voxox everyone can give their phone a makeover in a matter of minutes. But as you're checking out all the fabulous features, make sure you don't miss the limo.
*Promotion ended as of SEPTEMBER 10, 2015. Please click this link for details**