Here are some words you never want to hear when you're in a college relationship and it's time to register for the next semester: "Babe, I'm going to an out-of-state school this semester."
First, there's the distinct feeling that you just swallowed a huge rock. Then, your panicked response: "You're going to school … out of state? What about us?"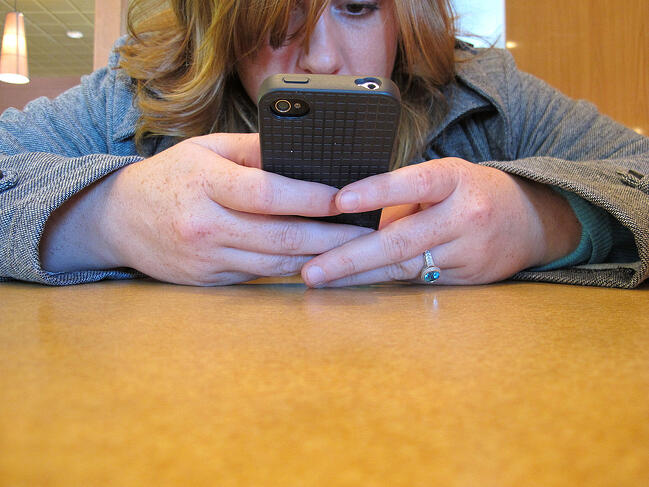 "Nothing has to change. We'll text every day!"
Your mind races. Texting isn't enough. Phone calling is too expensive. How do you maintain your relationship when you're sharing different experiences miles apart? What's going to be the best way to stay in touch without having to hit up Mom and Dad every week for more calling cash? How can you keep the fire burning?
Welcome to the Long Distance Relationship
You're not alone. Fourteen million couples define themselves as being in an LDR, with an average separation of 125 miles.1 Although on the surface it seems more challenging than a Proximity Relationship, some studies have shown that couples in long distance relationships were more likely to express meaningful thoughts and feelings, thereby achieving greater intimacy.2
Once your initial panic has subsided, you realize that a great OTT communication app is the answer to your LDR drama. So you head to the iTunes Store or Google Play to search on mobile apps for calling.
How OTT Mobile Apps Can Help
For the "ILDR" (International LDR), traditional calling can be as costly as textbooks and tuition. Even the shortest calls can run up the bill. But with some OTT mobile apps, like Voxox, international calls can be free or incredibly cheap. In addition to Voxox's super-low international rates, the company "tops off" your account with $1 free each month.* These two factors make international calling feasible without sacrificing educational costs.
Since calling isn't always convenient, the most frequent way to connect with your honey is likely to be texting. Even the most boring lecture can be spiced up with a text to your beloved. It's a minor distraction — if kept to a reasonable exchange — but it's a distraction that could make all the difference in their day!
Along with texting, you can share many types of media. Did you hear a great new song today? Attach it to a text message and you can share it together. Who knows? It may even become "your song."
Take a short video of yourself sharing some news and send it in a text message. What you wear in the video is up to you.
Did you and your friends find a great music venue last weekend? Location share the info with a suggestion that you try it next time you're together. This serves double duty: You let them know you're thinking of them and that you still have a life outside of your relationship and studying.
Call Recording lets you capture the love as it happens, so when you need that occasional reassurance, you can simply play it back and relive it whenever you want. (Quick Tip: This is also handy for solving arguments. Just make sure you're in the right before using a recorded call as evidence.)
Stick Together
Being in an LDR doesn't have to mean staying apart. With OTT mobile apps like Voxox, you can stay connected in fun and creative ways. All it takes is a few minutes a day to keep your long-distance love in your day-to-day life.
1. Longdistancerelationshipstatistics.com
2. Journal of Communication, 2014
**Promotion ended as of September 10, 2015. Please click this link for details**