Remember the kid in school who asked all the questions? Even when everyone else in class seemed to get the lesson, this kid would keep asking. The same kid wore glasses, read books through recess, ate lunch alone, and is now likely the wealthiest person at the class reunion.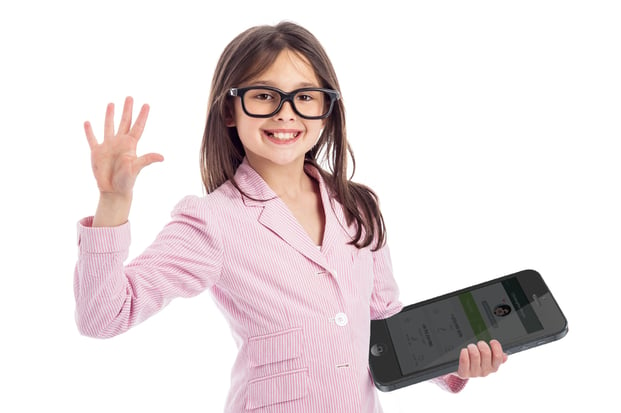 The good thing about this kid is that he asked the questions you were afraid to ask, because you thought they might sound too dumb.
Are you reluctant to ask questions about free texting with VoIP because you think you're the only one without the answers? Think again! Sure, VoIP has been around for close to 20 years now, but if you're like many people, you haven't stopped to learn some basics. And that's what we're all about in this post: keeping you from feeling like a dummy.
We'll start at the beginning with …
What's VoIP? And while we're at it, what's OTT?
When the Internet first gained public usage, it seemed its primary use was for checking email. Since then, smart people (like that annoying kid in class) figured out that you could use the Internet to transmit any type of data, including voice. Soon people were using it to make phone calls because it was often free (more on that later). Using the Internet to transmit voice is called Voice over Internet Protocol, or VoIP. Apps that let you use VoIP operate over-the-top (OTT) of your regular mobile service.
Why should I use an OTT app for texting?
OTT apps like Voxox offer cheap or even free texting, potentially saving you money on your cell phone bill. Because voice and text data are transmitted over the Internet using the same protocol, text messages are treated like voice calls by your OTT app.
Can I text my friends for free?
Free texting is one of the greatest advantages of using an OTT app. With an app such as Voxox, you can send unlimited free text messages to any of your contacts who are also using Voxox! When you text someone with your OTT app who is not using the same app as you, your texts can still be super-cheap because they take up such a small amount of bandwidth — usually only about 1KB.
Can I text internationally?
Yes you can! In fact, Voxox can send text messages in any of 60 languages. By enabling Translation Mode, all outgoing messages are translated into your contact's language. It's just as though you're texting each other in your native tongues!
For example, you can send a message to your contact in Spain who only speaks Spanish. You type in English, and when they receive the message it is automatically translated for them. When they respond in Spanish, Voxox will translate the message into your language.
How do I get started with free texting?
It's easy! Just download the free Voxox app to your smartphone and follow the on-screen signup. Voxox will automatically import your contacts and flag those who are already on Voxox. For those who aren't, you can send them an invitation instantly right from their contact screen.
What if I have even more questions?
As simple as this is, you may still have questions. (Are you sure you're not that kid from school?) Many answers can be found on the Voxox Community Forum, where users and Voxox support personnel are on hand 24/7. Sign up for the forum here. To read more about texting using VoIP, see the post entitled How to sign up and get the most from Voxox.