To stay competitive, today's businesses require more than just independent phone and data lines to cut deals, make sales and stay connected to their growing mobile workforces. They need systems that are less old-school and a lot more geek-chic … systems that deliver the power of VoIP in all its glory to meet the demands of each department in the organization. What they need is SIP Trunking!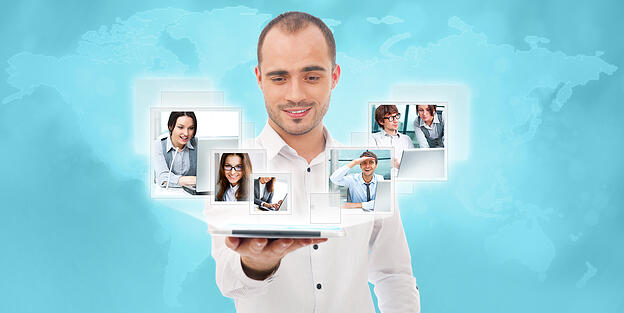 So what is SIP Trunking?
SIP Trunking is a powerful, scalable and highly flexible solution that enables SMBs to streamline business communication costs and resources, while retaining a truly stellar quality of service. SIP stands for Session Initiation Protocol and SIP Trunk Lines represent the number of simultaneous calls to the public telephone network that can be made at the same time. SIP Trunk Lines are the online 'virtual' equivalent to lines coming in from the phone company or channels on a T1 circuit – just instead of these calls ringing on a phone connected by cables at a desk, the calls ring in on your computer or mobile phone.
Why should my business change from ISDN to SIP Trunking?
Although the benefits are many, SIP Trunks are simply more robust and definitely more cost effective than ISDN! It's an IP-based telephony service that delivers a whole host of other added benefits and features that can solve real business issues almost overnight, and make a company more efficient.
Here are the Top 5 benefits of SIP trunks and why you shouldn't wait another day to begin migration for your business:
#1 – Almost Infinite Scalability
From single shop businesses to larger SMBs, SIP Trunking represents freedom from costly infrastructure and 'buying for the future' capital expenditures. Setup what you need for today, and then expand as your business grows – it's really that simple. A well architected and programmed access point can handle the same load for your business that traditionally required 109 ISDN overflow circuits coupled with voice gateways and a ton of analogue-to-digital converters (plus you could only scale up in multiples of 23 with your old system!). Your CFO will love it!
#2 – Save 40% Over ISDN and Other Systems
The average savings documented by companies around the globe is an incredible 30%-60%! By piggy backing on your existing PBX investment and/or IP infrastructure and purchasing the minimal equipment needed to convert over to SIP Trunking, the cost savings start there. Then factor in the month on month savings from your service provider and SIP Trunking starts to look a whole lot sexier! You'll enjoy free long distance because any call becomes a 'local' call, each employee can have their own dedicated line and you're no longer paying for separate voice and data lines – while all the while enjoying more features from your service than ever before.
#3 – Never a Missed Call
Now, when an employee is on the road or working remotely, their calls are automatically routed to their mobile phone. The same is true if a line is busy or if your office is closed for the day. Never lose another customer because now their call can all be programmed to:
Move to the next extension, or

Sent to any mobile phone, or

Routed to another trunk group, different phone number, or alternate location
#4 – More Efficient Communications
Not only will you streamline all communication when you step away from separate data and voice lines, but you are going to supercharge it! Whether your staff is on-site or working remotely, everyone enjoys these awesome options:
Voice calls

Instant messaging

Video conferencing

Convenient address books sync'd between devices to keep you organised

Conference calls, with the ability to record calls for team members who were unable to attend
#5 – ROI is Almost Instantaneous
You will see a significant return on your investment – generally speaking – within six months! With SIP Trunking you are 1) no longer paying for equipment and service that you don't need RIGHT NOW, 2) maximizing your current Internet bandwidth by simply adding on the voice traffic to your existing service and 3) enjoying a HUGE reduction in your monthly telephone bill.
Honestly, changing over to SIP Trunking is one of the smartest technology moves your business can make this year. Just be sure to have the system setup and programmed by an expert, then from there sit back and watch the savings and the benefits fly in!