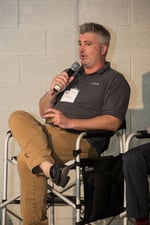 The Voxox team is reveling in the killer conversations we had at the 4th Annual Global Telecom Solutions Open House recently. Mostly we can't stop talking about the expert panel GTS hosted during the one day event. Voxox was among only four companies represented on the event's industry experts panel. We shared the stage alongside US Signal, 123NetInc and vMOX. We thought we would share some of our takeaways from the panel, as they are timely to many conversations happening right now in channel partner and telecom circles. Both as it relates to hosted PBX and the larger arena of Unified Communications as a Service (UCaaS).
Here are our top three takeaways:
The decline of premise based phone systems and growth in UCaaS is tied to better connectivity. This wave has been building now for a while, a convergence has been underway fueled by higher performing, cheaper internet connectivity. UCaaS collaboration, communication and application services are delivered over the IP network via third party providers. So as trust in that connection continues to grow, it is no longer a question of "if" the solution will provide what businesses need but rather how can we get more from our program. Customers will start to see VoIP beyond a cheap path to dial tone especially in light of the need for better collaboration and productivity with mobile and remote workers. There is a lot of room for growth here for partners both in enlightening their own portfolio of services, but also informing their customer base as to what's available and coming soon.
Surprisingly low adoption of hosted PBX "power features" despite their value. A surprisingly low percentage of customers are utilizing power features. These features create up-sell opportunities for partners - beyond the basic features like auto attendant. By some estimates the penetration of the hosted PBX market is less than 50%, meaning that channel partners still have a lot of upward mobility in terms of selling new accounts and converting premise based systems to the cloud. So it only makes sense that together with the market opportunity partners could also be educating and selling businesses on the next level of features, such as connecting to new apps and programs through API calls, conferencing or even call center features. Taking call centers as an example, imagine businesses seamlessly integrating a cloud contact center solution with their UCaaS system. The benefits reach to improving collaboration, perhaps even increasing the speed of resolution for customer issues. The channel can provide greater value and keep up with rising trends by becoming well versed in the latest features and capabilities for their clients.
Making your hosted PBX partner a real partner. Given these trends it's so important to find the right partner that can grow with you and keep on top of the latest trends, but also give you the kind of "partner experience" you require. Trust and a tailor fit partner experience are key here. One might argue it matters more than the customer experience, based on the low frequency with which we have to work with customers directly after they are on board. While we need a strong customer experience and foundation of features and functionality to satisfy end customer needs, the emphasis needs to be providing an experience that inspires trust in the partner. Look for providers that provide a seamless experience from start to finish with provisioning and support flexibility in customer contact.
Were you at the event as well? We'd love to hear your feedback and continue the conversation. Visit us on Twitter at @voxox too. Cheers!