Text Message Marketing for eCommerce: How to Increase Traffic & Conversions for Your Online Store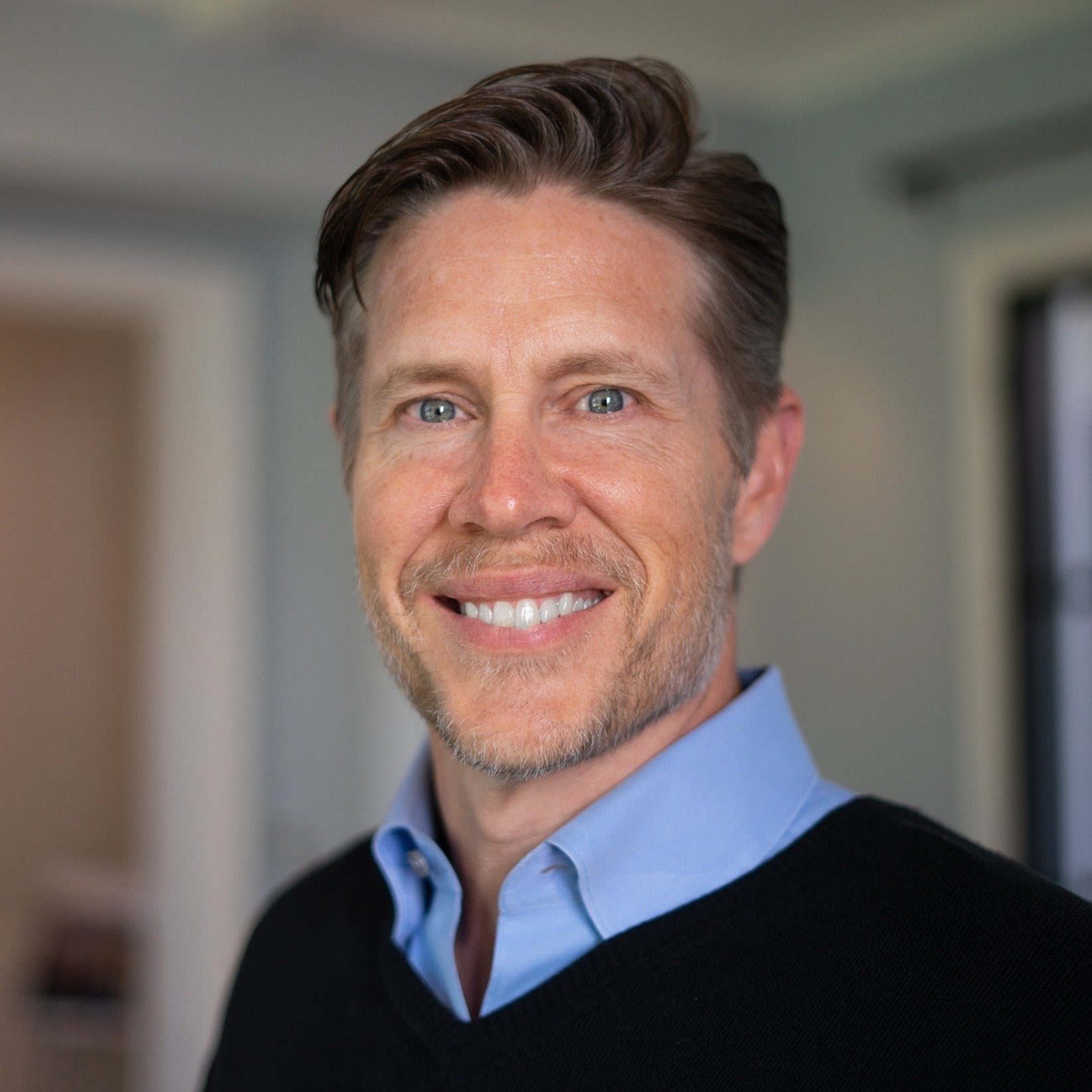 Written by Larry Wallace
|

September 27, 2021
|
12 minute read
Text Message Marketing for eCommerce: How to Increase Traffic & Conversions for Your Online Store
Learn the power of text message marketing for eCommerce to drive traffic, increase conversions and sell more on your online store!
Online sales have soared with over 4.2 trillion dollars in revenue in 2020 alone! Experts project that e-commerce sales will hit a cool 6.5 trillion dollars by 2023.
With more opportunity for growth comes more competition, so it's more important than ever to hone in on your eCommerce marketing strategies to increase traffic and conversions for your online store.
It's all a numbers game: the more traffic your website gets, the more conversions you will have. That results in more sales and more money in your pocket.
But what makes an eCommerce marketing strategy strong enough to get people to come to your website?
The answer to that question has evolved over the past couple of decades – first with the rise of mobile devices, then social media, and now the innovative AI capabilities that we aren't even surprised by anymore.
To answer this question in a simple manner, it's all about making authentic connections with your customers.
The modern shopper is bombarded with ads all the live-long day. In order for them to move from not knowing your brand at all to making the decision to give you their hard earned money, they need to feel connected to your product or trust that they will truly benefit from it.
By the time you finish reading this guide, you'll have everything you need to bring together the right marketing strategies for eCommerce and start generating real engagement that leads to increased traffic and conversions to your online store.
What's the best eCommerce marketing strategy?
A solid eCommerce marketing strategy in today's world is focused on getting your product in front of the right audience and generating authentic engagement with your customer base.
With the convenience of SMS, social media, and other platforms that keep us all glued to our phones, this is pretty easy to do so. You just need a little creativity and a whole lot of dedication!
First things first.
You want to establish a way to cut through the noise, communicate on a 1-on-1 basis with your customers, and build a connection that not only earns you a one-time sale but activates a long-time loyal advocate for your brand.
And to do that, you're going to need one very important, incredibly essential tool:
SMS marketing.
What is text message marketing for eCommerce?
If you ask Google, SMS marketing, or text message marketing, is a method used by businesses to send out promotions, alerts, specials, and other permission based, highly targeted, opt-in messages.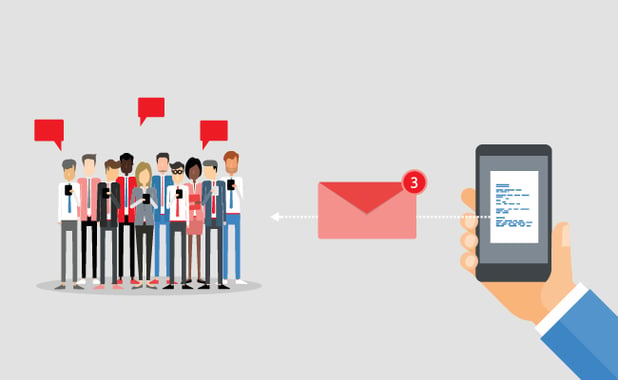 If you ask us, it's a powerful way to reach your customers with helpful information, exciting deals, and the good news they want to hear in the way they want to receive it.
Using text messaging to connect with your customers is one of the newer retail marketing strategies on the block and it has truly started off with a BANG!
This comes as no surprise when you take a look at the statistics on SMS marketing and texting in general.
Over 95% of text messages are read in the first few minutes of being received!
SMS marketing gets a 98% open rate.
The average American looks at their cell phones 150 times per day
292 million people in the USA use text messages – over 80% of the population.
Over 3 billion people use the internet through their cell phones or mobile devices. By 2025, it's estimated that over 70% of users will access the internet using their smartphones only.
Over 70% of consumers polled like offers from their favorite businesses sent directly to their cell phones.
22% of text messages that the customer finds valuable are forwarded to their family and friends.
Cell phone use is a powerful tool for marketers to connect to potential customers all over the globe and SMS marketing for eCommerce gives you a direct link to deliver your marketing material straight to your customers' phones. They'll receive your message right away without having to open an app or browser or search your targeted key phrase in a search engine and just happen to find your website.
Text message use is expected to continue growing through 2021 and beyond. SMS marketing for eCommerce allows you to connect with your customers on a 1 on 1 level – easily, instantly, and directly.
Do You Need Consent to Send a Text?
Yes, SMS marketing for eCommerce is only legal if the customer has opted-in to receive texts from your business – which is a really good thing actually! You don't want to send texts to potential customers that don't want them.
Why waste the time and money only to leave a bad taste in that customer's mouth and likely cause them to avoid buying from your business?
Helpful Blog:
The Complete Guide to SMS Compliance
Text marketing falls under what is called permission-based marketing.
Permission-based marketing is when potential customers give explicit permission to receive marketing content. With SMS marketing for eCommerce, this is typically done by texting a keyword, online opt-in forms, or contest entries.
In a time where consumers are exposed to over 3,000 interruption messages a day, permission based marketing can help drown out the noise by getting explicit marketing messages to people who have expressed a specific interest in these messages.
Does SMS marketing work for eCommerce businesses?
Among all of the eCommerce marketing strategies out there, SMS marketing is by far the most effective. Many industries can benefit from using SMS. However, eCommerce and SMS go together like peanut butter and jelly.
What makes SMS marketing so effective?
SMS marketing for eCommerce has been found to be super effective. The reason is pretty simple. Potential customers get information sent right to their smartphones.
Do you know anyone that leaves the house without their phone? I would bet that's a no.
Check out this Comeback Show episode with an eCommerce expert: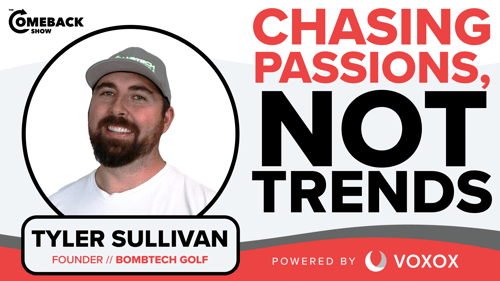 Benefits of SMS Marketing for eCommerce
There are a ton of benefits to making SMS marketing one of your top eCommerce marketing strategies, especially for online shops. Here are the benefits experienced by eCommerce businesses that use SMS marketing.
1. SMS marketing for eCommerce has a 500% greater engagement rate than email.
Email marketing isn't going anywhere any time soon, but there is a way to reach your customers that can generate 500% greater engagement. Yepp, we're talking about SMS marketing for eCommerce. While email marketing is stuck at a measly 20% open rate, text marketing boasts a whopping 98%!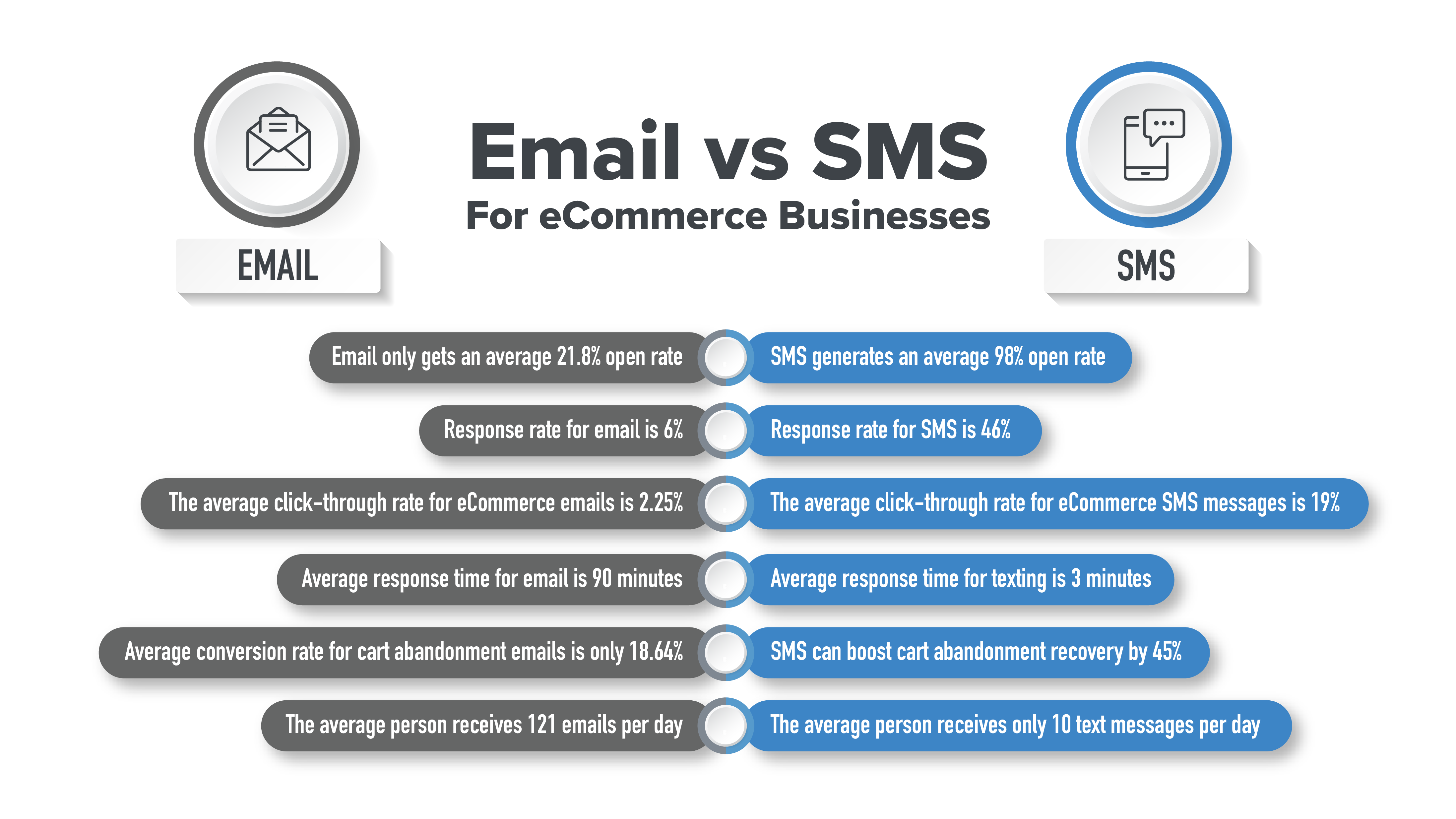 That means nearly 100 percent of the time, your customers are opening your marketing content. And not to mention, the average consumer opens their texts within 3 minutes of receiving them.
Email inboxes are where marketing content goes to die. Just think of the SPAM folder as a cemetery of hundreds of businesses' really well-written messages, awesome discounts, and helpful insights.
With SMS marketing for eCommerce, you can feel confident your message will not only be received but responded to, with the right creative strategy in place.
2. It's your customers' preferred channel of communication.
SMS marketing for eCommerce isn't just an effective way to reach your customers. It's actually the way your customers prefer to be contacted. That's right. Your customers actually want to receive texts from you!
78% of consumers wish that they could have a text conversation with a business and most customers prefer to receive delivery updates straight to their phones.
3. It is effective at any buying stage.
SMS marketing for eCommerce isn't limited to potential customers at the beginning, middle, or end of the buying journey. It is an incredibly productive way to reach customers at every part of your funnel and really implement a powerful "flywheel" strategy to continuously delight your customer base.
Use SMS marketing for eCommerce to engage brand new customers in the awareness stage by offering a discount they can't refuse. Alert all of your middle of the funnel customers that are sitting in the consideration phase with multiple touch drip campaigns that eventually inspire them to make a purchase.
And keep your existing customers in the loop with flash sales or special promos going on, or make two-way texting available to them if they have an issue with their order.
4. SMS marketing for eCommerce boasts a 40% higher conversion rate.
With a 98% open rate and 46% click-through rate, it's no surprise that SMS marketing for eCommerce offers a 40% higher conversion rate than any other marketing channel.
5. It's easy!
SMS marketing software, like VoxDirect by VOXOX, is incredibly simple to download, upload your contact lists, and start seeing success right away. With AI-powered automation, just a few clicks and everything is setup and ready to go.
You can put all of your text marketing campaigns on autopilot. All you have to do is develop creative messaging and decide what you want to offer your customers and your SMS marketing platform equipped with fully automated AI-enabled features will do the rest.
6. It's data-driven and trackable.
With the right platform to facilitate your SMS marketing for eCommerce, you can make sure all of your campaigns and subscriber lists are properly tracked so they can be continuously optimized.
Look for a text marketing platform that offers advanced AI capabilities that analyzes your customers' behaviors, like how they respond to certain campaigns so that you can make more data-driven decisions about your approach to your SMS marketing for eCommerce strategy.
7. Text marketing for eCommerce can be optimized with integrations.
Another key factor to look out for when choosing an SMS marketing provider is the integrations they offer. Here at VOXOX, we provide our customers with thousands of possible integrations with the power of Zapier. This allows you to completely automate your SMS efforts.
Helpful Blog:
How to Use Zapier to Automate Your SMS Marketing for eCommerce
8. It saves you time.
AI-powered SMS automation gives eCommerce businesses the power of one, meaning they're able to accomplish the work of many even if they're only a one to two person team. You can shave hours off of your workweek by automating your marketing efforts and using two-way texting or AI chatbots to handle all customer support inquiries.
9. It saves and makes you money!
You don't need to have the budget of a Fortune 500 corporation to use SMS marketing for eCommerce. Text marketing is affordable and generates a MAJOR return on your investment with such high open rates and engagement levels.
It's also a majorly effective way to upsell your customers! Just watch this video to learn how.
10. SMS marketing for eCommerce is still new and unsaturated.
The last, but certainly not least, benefit we want to share is the fact that SMS marketing for eCommerce is still an untouched, unsaturated channel. Just look at these statistics: only 53% of marketers have adopted SMS marketing in the last year. That means there's another 50% of your possible competition not using this amazing tactic that generates 98%, (I repeat 98%) engagement rates.
But it won't stay that way for long. By adopting SMS marketing for eCommerce now, you can get ahead of the curve.
Best Practices of SMS Marketing for eCommerce
SMS and eCommerce go hand in hand. Customers want to receive deals and they want them delivered instantly to the place on their mobile device they frequent the most often. It's a no brainer.
Here are some of the best practices to use when implementing SMS marketing for eCommerce businesses:
1. Increase Sales by Sending Instant and Exclusive Deals
There is no better way to offer your customers special discounts, exclusive deals, or promos. Sure, social media is also a great place to share a special promotion happening on your website.
However, if you want to poke your customer base instantly and reach them even when they aren't scrolling – SMS marketing is the way to go.
2. Keep Your Customers in the Loop About their Favorite Products
Imagine being able to let a customer know the moment an item on their wishlist is on sale or back in stock! They'll appreciate the notification, and you'll appreciate the way they run straight to your site to spend some money.
SMS marketing gives you the power to reach your customer instantly and conveniently provide them a link so they can head straight to your online store to make a purchase.
3. Use
Two-Way Messaging to Recover Abandoned Shopping Carts
Oftentimes, the reason for an abandoned cart is because potential customers have questions about the product, sizing, and shipping that aren't easily answered by browsing your website.
While retargeting ads and campaigns can help recover some customers, they won't help with customers who have questions. Two-way SMS can solve this issue, helping to recover customers and increase revenue.
4. Elevate the Customer Experience with Two-Way Messaging
Another way that two-way messaging improves your retail marketing strategies is by offering a customer-centric approach to your campaigns. It removes the frustrating experience that comes with being sent to a customer service inbox (and the LET ME TALK TO A HUMAN, PLEASE feeling).
Two-way SMS marketing allows you to easily and quickly tend to your customers' needs. You can do this by...
Actually responding to your customers' texts, or
Using advanced AI technology that is designed to respond naturally and conversationally to either answer their questions or forward them to a virtual receptionist that can.
Using conversational messaging, brands can easily talk to customers in a very casual and natural way that requires no additional time investment on the customer's part.
5. Segment Your Audience to Deliver Personalized Messages
Text marketing comes with a number of additional tools and tricks up its sleeve that can continuously help you optimize your campaigns. One of those tricks is audience segmentation.
Helpful Blog:
Segmenting Your Lists: A Guide to Text Marketing Segmentation
By segmenting your audiences by interest, age, location, or other criteria, you can personalize your messaging to be specific and more effective. To do so, you want to set up different text campaigns based on certain criteria and assign a specific keyword to each campaign. When a customer texts that keyword to your number, they'll be instantly added to that group.
6. Enter Your Loyal Customers into Reward Programs
Another best practice you should absolutely make part of your SMS marketing for eCommerce campaign is entering your loyal customers into reward programs. Have your customers text a specific word to join the program and then, using automated text drip campaigns, you can deliver exclusive discounts and other rewards that go out to your customers on a monthly basis or however often you choose.
7. Celebrate Your Customers with Automated Reminders & Rewards
Make your customers feel extra special by sending them a gift on their birthday or other special days. This is a great way to build brand loyalty, treat your consistent customers to some good news they'll really love, and keep these customers engaged with your business.
SMS Marketing for eCommerce Tips
Here are some SMS marketing for eCommerce tips and some blogs we know you'll LOVE to help you get started:
Find a high quality SMS marketing platform.
Don't try to do it all yourself. While you're learning the ins and outs of text message campaigns, partner with a provider who has experience creating campaigns and can teach you through a platform to create your own initiatives.
Helpful Blog:
How to Choose the Right SMS Provider
An SMS marketing software service can help educate you, plan out your campaigns, and automate your campaigns. This can free up your time to work on other aspects of your business.
Plan out an effective SMS marketing strategy for eCommerce.
Don't just click send and hope for the best! While we're all for shooting your shot, you have to do it in a meaningful way that will attract customers and help reach all of your marketing goals.
Helpful Blog:
How to Set Up a Text Marketing Campaign: The Beginner's Guide
Text messages are informal, but they have to be thoughtfully considered, just like all of your other eCommerce marketing efforts. You'll want to combine the right amount of creativity, personality, and incentives to stand out and build that connection with your audience.
Constantly review and improve your strategy.
Once you've begun a marketing plan, you have to test, test, test it! Review your results against key performance indicators to be successful. You want every dollar spent on marketing to be a dollar well spent.
Helpful Blog:
SMS Best Practices You Should Be Doing
You can easily track open rates, click through rates and more. You can also use A/B testing to see which messaging works best for your audience. This can allow you to make the best decisions to improve your marketing. This leads to what matters most- more sales and more money.
As we mentioned above, SMS marketing for eCommerce is only legal when a customer has given consent. It is incredibly important to cooperate with the SMS regulations and only send texts to customers that have opted-in to receive them.
Other Strategies to Support Your SMS Marketing for eCommerce Campaign
Now that you understand the benefits of using SMS marketing for eCommerce as a way to connect instantly with your customer base, you're probably wondering – how do I get people to sign up to receive my texts?
This is where these other strategies will come into play. With all of these pieces of the puzzle working together, you're bound to drive more traffic to your website and see a major increase in your online sales.
1. Content Marketing
If you aren't using content marketing yet, there's no time like the RIGHT NOW to get started. Content is super important in improving your rankings, but it can also help you tremendously in your SMS marketing for eCommerce efforts and overall retail marketing strategies.
Your customers LOVE deals, discounts and exclusive stuff. But constantly blasting your customer base with flash sales can come off spammy, become stale quickly and lose their appeal of exclusivity.
Sending valuable content like fun blogs, videos, interviews with your customers' fav influencers or celebrities, and other entertainment is another way you can stay connected with your audience via SMS marketing. You're still offering something they'll be interested in, while driving traffic to your website and helping to build your page's domain authority at the same time.
Plus, you can gain new SMS subscribers by sharing your text campaigns in your content. So it works both ways – you can bring traffic to the content of your website via your SMS campaigns, and you can bring new subscribers to your SMS campaigns by promoting it in your website content. Boom! We love a good win-win.
2. Social Media Marketing
It goes without saying that social media is an ideal place to get your brand in front of your ideal customers at the ideal time. You don't have to be a marketing genius to know that social media should be a focal point of all your retail marketing strategies.
But what's even better is that social media is an excellent way to gain new SMS subscribers! Contests, giveaways, influencer reps… these are all powerfully effective ways to get customers to opt-in to your SMS campaigns.
Make sure you add your business phone number into your bio and promote your text marketing campaigns in your posts, stories, and reels!
3. Event Marketing
Events are another great way to spread the word about your brand, show off your products, gain new SMS subscribers and jumpstart your efforts for a successful campaign using SMS marketing for eCommerce.
Trade shows, experiential marketing tours, and other in-person experiences give you an opportunity to talk up the benefits of opting in to your SMS marketing campaigns. As an eCommerce brand that doesn't have a brick and mortar location, using event marketing gives you the opportunity to put a face and personality to your brand – outside of social media.
Final Thoughts
SMS marketing, content marketing, and using social media intentionally are sure fire retail marketing strategies that will help make your online store grow. It won't happen overnight, but with consistency, and hard work, you will see more growth!
SMS marketing for eCommerce is one of the best ways to drive customers to your site, over and over again. Connect instantly and share GREAT NEWS with your audience that puts a smile on their face when your text comes through.
The best way for small businesses and online retailers to stay connected with customers and employees is through text message marketing, which has an over 500% greater engagement rate than emails!
Using this technology is an amazing way to get more traffic, more sales, and more money! VOXOX is the #1 mobile first, 5G enabled communications platform for small businesses. Start your free trial here.
DON'T MISS THE LATEST
Get updates in your inbox