14 Proven Strategies for Marketing Your Real Estate Business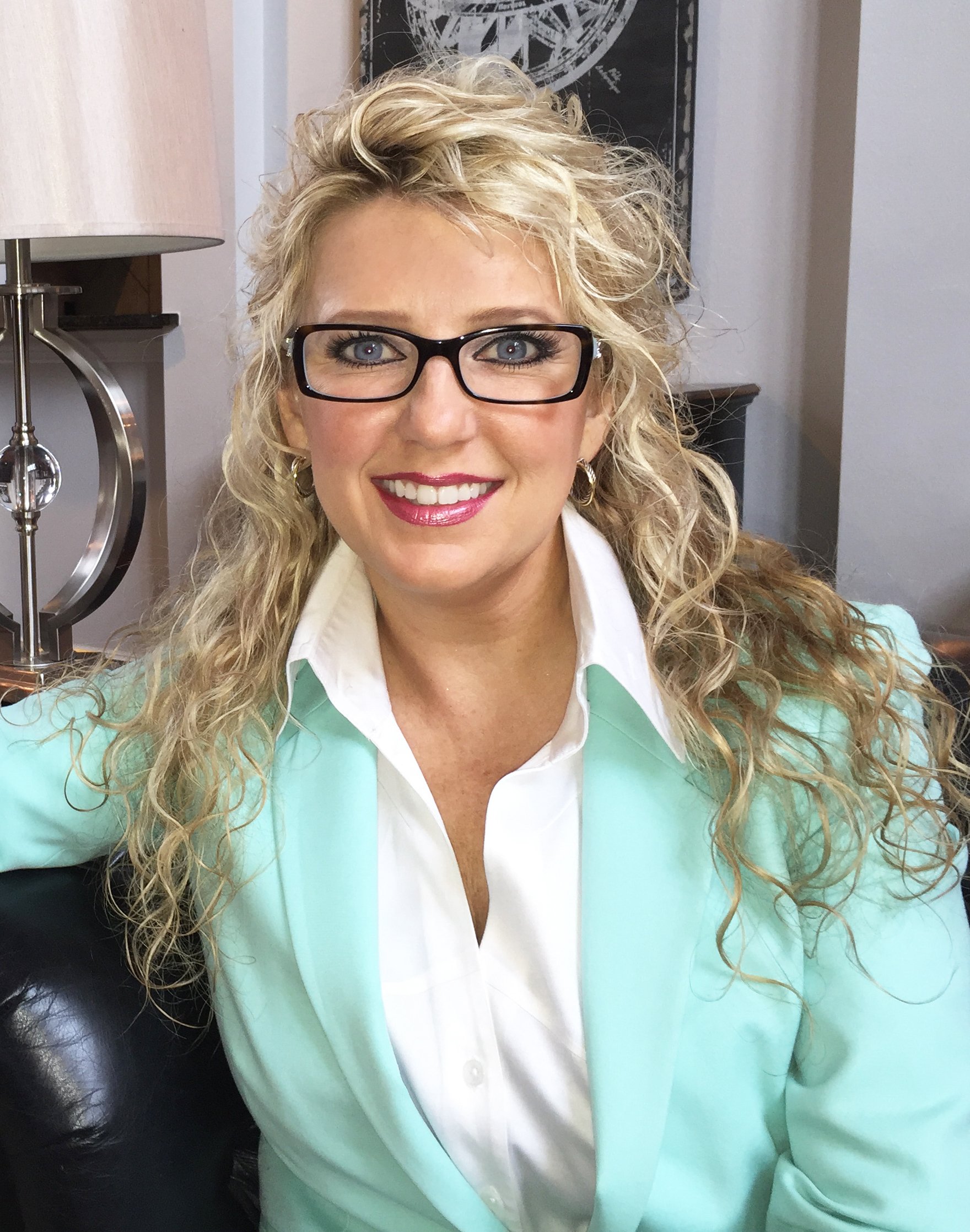 Written by Staci Wallace
|

July 1, 2021
|
16 minute read
In this guide, we share some insanely good tips from top real estate professionals about how to use real estate SMS message marketing to grow your business!
As a real estate professional, you know that marketing, follow-up, and effective communication all play a huge role in capturing and sustaining the attention of potential clients.
According to data from the National Association of REALTORS® 5.64 million existing homes were sold in 2020. How do you ensure you get your piece of the action?
There are countless ways to market your business, but what are the proven strategies that work best? To be top of the game, one thing is certain, you must have both an online and offline strategy to connect with potential clients.
As the market becomes increasingly competitive, it is necessary to present the right marketing strategies in front of the right customers, at the right time.
The real estate market can be extremely lucrative, but according to The Association of Real Estate License Law Officials (ARELLO), there are over 3 million active real estate licensees in the United States alone. To make sure that your marketing efforts are seen and heard, it takes hard work, dedication, and super-effective marketing campaigns to make it happen.
How to Market Your Real Estate Business
Marketing a business is a very involved, complex process that, like real estate, requires a certain level of expertise and practice. And they don't necessarily teach you how to do it in real estate school.
But the good news is there are plenty of simple, affordable methods that anyone can apply to market their business effectively.
The key to any real estate marketing strategy is engagement. You want to connect with new and existing clients on a regular basis, so that you stay top of mind when they're in search of a real estate agent to hire.
Engagement also allows you to build trust. Buying or selling a home is a huge decision. Homeowners want to know that they can trust the person they're hiring. That's why staying in touch with your client base, sharing your insight via informative content, and maintaining an active presence online are great ways to establish a relationship with clients.
What's the best way to drive engagement with your client base? Today, the answer to that question is real estate text message marketing.
Related Blogs:
11 Effective Real Estate Text Message Scripts
How to Get More Real Estate Clients
Harnessing the Power of Real Estate Text Message Marketing
Did you know that 93% of top real estate agents prefer to communicate with their clients through text messaging?
Real estate text message marketing is one of the best ways to increase client contacts and leads, sell properties, and manage existing relationships. It's also a great way for you to have an excellent follow-up strategy that leaves your customers saying WOW.
When done with a solid AI-centric communications company, like VOXOX, it's like having a clone of yourself – one that's available 24/7, doesn't need sleep, and is always working so you don't have to.
SMS marketing, or text message marketing, is a powerful tool that businesses can use to stay in touch with both current and potential clients. This permission based marketing method is highly targeted with opt- in messages. The options are endless! You can send alerts, listings, and promotions to your clients.
A real estate texting service can level-up your real estate marketing efforts, which is no surprise given the following stats on SMS marketing.
Over 95% of texts are read in the first few minutes of being received
The average American looks at their cell phones between 95 to 150 times per day!
Over 80 percent of the population in the United States use text messages!
Over 70% of customers like when their favorite businesses send offers and information directly to their cell phone
22% of text messages that the customer finds valuable are forwarded to their family and friends.
Text message marketing is expected to continue to explode through 2021!
What makes real estate text message marketing so effective?
SMS for real estate marketing has been proven to be very effective for agents looking for consistent ways to turn new leads into valuable customers.
"In a matter of 30 minutes, I sent a single mass text that resulted in several responses and a $1500 referral from a former client. Not bad for one text!" said Payton Wallace of Wallace and Associates.
VOXOX customer, Payton Wallace, can vouch for real estate text message marketing. In an interview, he explains how SMS marketing is shaping his real estate business and making communications with clients better than ever.
The beauty of SMS marketing is that it provides a way to connect with potential clients instantly, directly and in a way they actually prefer.
Why is this important?
Because clients are 209% more likely to see a text message and respond than they will with a traditional email marketing message. That alone is very powerful! Think about this: How many times have you checked your phone in the last hour? If you're like most Americans, you check your phone, on average, 96 times a day!
Text message marketing is also super effective because its' permission based, which is a VERY big deal in the age of advertisement bombardments. This means that customers are more likely to trust you, and they're more likely to read your texts!
There are a TON of reasons why you should be using SMS marketing for your real estate business:
Text messages are received in just seconds.
Most people check their phones pretty often, which is probably why text message SMS marketing boasts over a 98% open rate!
It's easy to see what works and what doesn't with companies like VOXOX. This helps you continually improve your text marketing efforts.
Benefits of Real Estate Text Message Marketing
There are so many reasons why you should be using SMS marketing for your small business. Businesses that use text message marketing enjoy:
Increased traffic to your real estate website
Increased sales and referrals
Elevated brand loyalty through ongoing communication with your audience
Instant communication with current customers
Build Your SMS Lists
Your list of contacts, leads, and referrals are your gold and it should grow every single day by at least 1%. Micro-growth may seem small at first, but over time, just like the geometric progression of doubling a penny, it can grow expansively over time. One great way to build your list is to use targeted forms and opt-ins.

You've seen them. You go to a website and see something you like but it asks for your name and email and possibly phone number before they will give you the download. Content offers like these can include an eBook, white paper, free product offer or anything that a potential client might find valuable.
This is called a lead magnet. It is designed to magnetically draw a prospect into giving you their personal information so that they're added to your marketing list, giving you the opportunity to market to them more in the future. We'll touch on lead magnets more below!
Build your list by creating a lead magnet that captures the important information of potential clients. There are two simple ways to do this:
Create a simple form for potential clients to get their lead magnet through a "squeeze page" This should collect email addresses and/or phone numbers.
Have customers opt-in by simply texting a code to your phone number. This will get them signed up, ensure that you're engaging in permission-based messaging, and you can simply set up an autoresponder with a link to their lead magnet.
A great tool for marketing your real estate business is to create a high quality and high converting lead generation page - also known as a "Squeeze Page." It's called that because you are trying to "squeeze" contact information for lead generation purposes out of your visitors. This is super effective as it allows you to get more information for your email lists.
If you really want to hit one out of the ballpark, you can use your squeeze page to collect phone numbers, which you can then use (with permission!) for your real estate sms marketing efforts.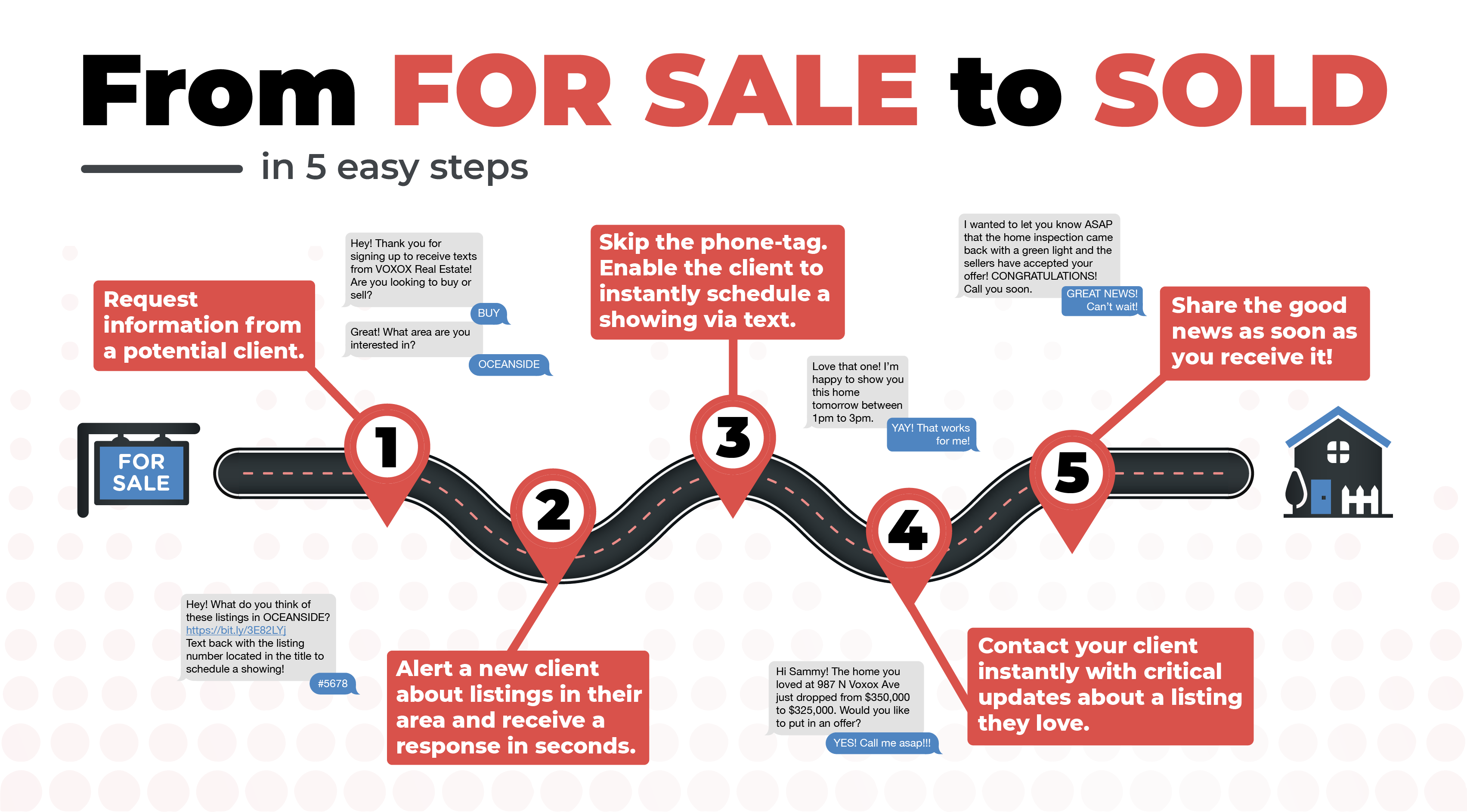 It's important to get creative and offer value on your lead generation page. Consumers are more savvy than ever, and are constantly bombarded with squeeze pages and other marketing efforts to try to get their personal information. In a time when data privacy is so controversial, it is important to provide the best value so your customers want to provide you with their deets.
Multiply Your Efforts With AI-centric Communications & SMS Automation
"I have so much extra time in my life," said no real estate agent EVER! Now with AI communications and text automation, you can set up powerful marketing campaigns and chat bots that free up hours of your time, so you can spend time doing things that matter most.
Companies like VOXOX offer cloud-based communication solutions that strategically use AI-powered SMS to provide stellar customer service, follow-up campaigns, and automated messaging to create consistent and instant communications with clients.
There are a ton of ways to use AI for marketing your business.
You can use AI to communicate smarter. You already know that you can send SMS messages in bulk to hundreds or even thousands of people. VoxDirect offers unlimited one-to-one text messages. Using two-way communication to personalize the customer experience can really increase the success of your SMS marketing campaign.
However, interactive communication can take up a ton of your time. VOXOX has an auto-response tool that triggers a reply based on a setlist of words, saving you time while helping establish meaningful conversations with your current or potential customers.
14 Best Strategies to Support Your SMS Marketing Efforts

Now that you understand the importance of using SMS marketing and text automation to market your real estate business, let's explore other marketing strategies that are also essential to your success.
These methods will support your SMS marketing strategies to amplify your marketing efforts.
1. Use Your Website to Your Advantage
You sell properties. Your website sells you. Think of your website as an extension of yourself. It should be a tool that works on your behalf 24/7, collecting phone numbers to add to your SMS subscribers list and providing key information about your business and properties you're currently selling. It should be your best employee!
Successful real estate agents who have mastered online or digital marketing know how important it is to have a professional website. And make no mistake –there is a big difference between a regular website and a professional one.
When building your website, focus on both functionality and aesthetics. Make sure that you look at the speed of the site, quality of content, ease of navigation, sharpness of photographs and so on.
Keep your website up to date with the latest listings and fresh content so you give people a reason to come back again and again.
2. Create Captivating Lead Magnets
As we mentioned above, one big component in marketing real estate online is to build a free offer to collect those lucrative phone numbers for real estate SMS marketing, as well as email addresses for email marketing campaigns that you hopefully are generating from your squeeze page.
The most popular and successful real estate agents and real estate websites have free offers that offer value. These pop up a short time after you visit the page and serve the purpose of exchanging valuable information for consumer information.
The offer has to be good enough that consumers want to hand over their phone numbers and email addresses, so it's important to come up with a lead magnet that is effective and has information that potential buyers and sellers want to know.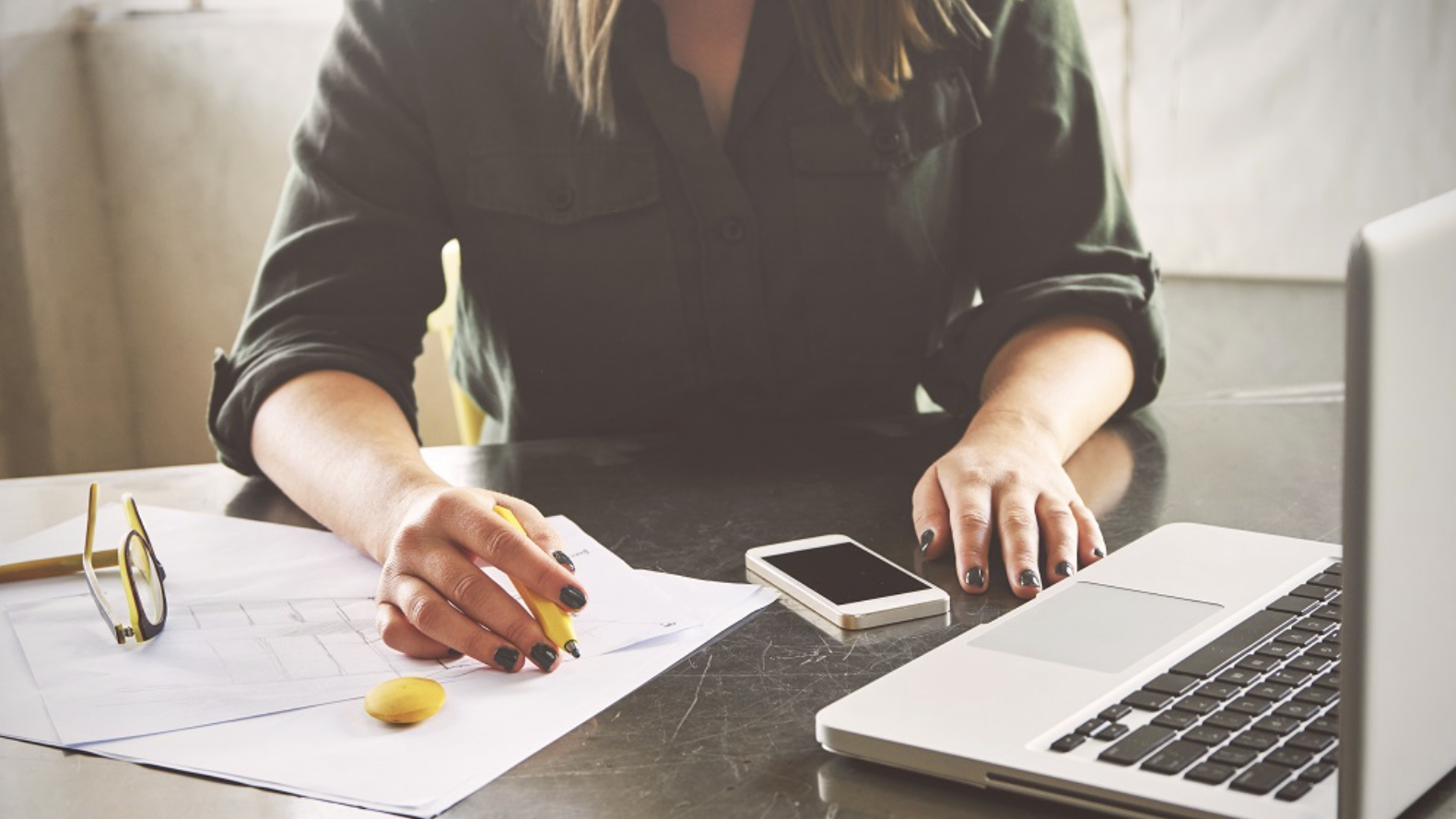 Lead magnets are super important because they work hard even when you're not. Like your website, it's a 24/7 tool that can generate mad leads for your business.
Just like any other marketing effort, lead magnets must be done effectively for them to work. They should be carefully designed, implemented, and tested to make sure they are done the right way. Attractive and effective lead magnets have these things in common:
Presents a compelling offer that adds value related to the services you provide. Ideally, this would showcase your expertise as a real estate professional.
Clear messaging on the landing page so there is absolute clarity on what the offer is and how to get it.
Minimal information required to get the lead magnet. The more fields required, the lower the conversion rate. Stick to the basics like a first name, phone number, or email address.
What are the best lead magnets for real estate SMS marketing?
There is a ton of different content, services, and products that you can give away in exchange for phone numbers for SMS marketing (and email addresses for email marketing).
Some real estate lead magnets work better than others. Here are some of the top lead magnets for real estate professionals.
Free home evaluation
This is a crazy popular lead magnet for sellers! Free home evaluations are incredibly effective because homeowners are naturally curious about the value of their home- especially if they're thinking about selling.
Integrating your SMS or email with automated valuations or market analysis tools that allow you to easily send valuable information when leads opt-in or submit their info.
Market reports
Buyers are very interested in market reports. With the internet, they're more active than ever before. People on the market for a home want to know all of the details about the market with up to date and accurate information.
A market report is a great lead magnet for potential buyers as consumers can get all the information they need about new listings, market trends, and recent sales in the areas they are interested in. This lead magnet works perfectly for both SMS and email marketing.
Buyers and sellers guides
The buying or selling process can be very complicated. Customers can easily spend all day on the internet learning about all the processes, searching homes on the market, and trying to figure out next steps.
That's why buyers and sellers guides are such a great lead magnet. Providing important information, all in one easy to read guide or ebook provides a ton of value to potential clients.
Writing the content and creating an easy to navigate PDF is the best way to provide this guide. You can do this yourself, or you can invest in a high quality copywriter and real estate or marketing designer to make sure you provide the best lead magnet possible. Since this will be one of the most effective lead generation tools, it's worth investing in, if you can.
Buyer and sellers guides can help get you in front of buyers and sellers, which is perfect whether you're just starting out or are an experienced real estate professional.
Your lead magnet will most likely be a pop up on your website- so make sure your professional website is up to date and running smoothly.
Your website is your 24/7 salesman and client generator. Make the most of it.
3. Work with a Professional Photographer
As you probably already know, photos are super important when it comes to posting properties for sale online. Photos are the first thing potential buyers see. Despite this, many realtors don't leverage this as a part of a marketing strategy.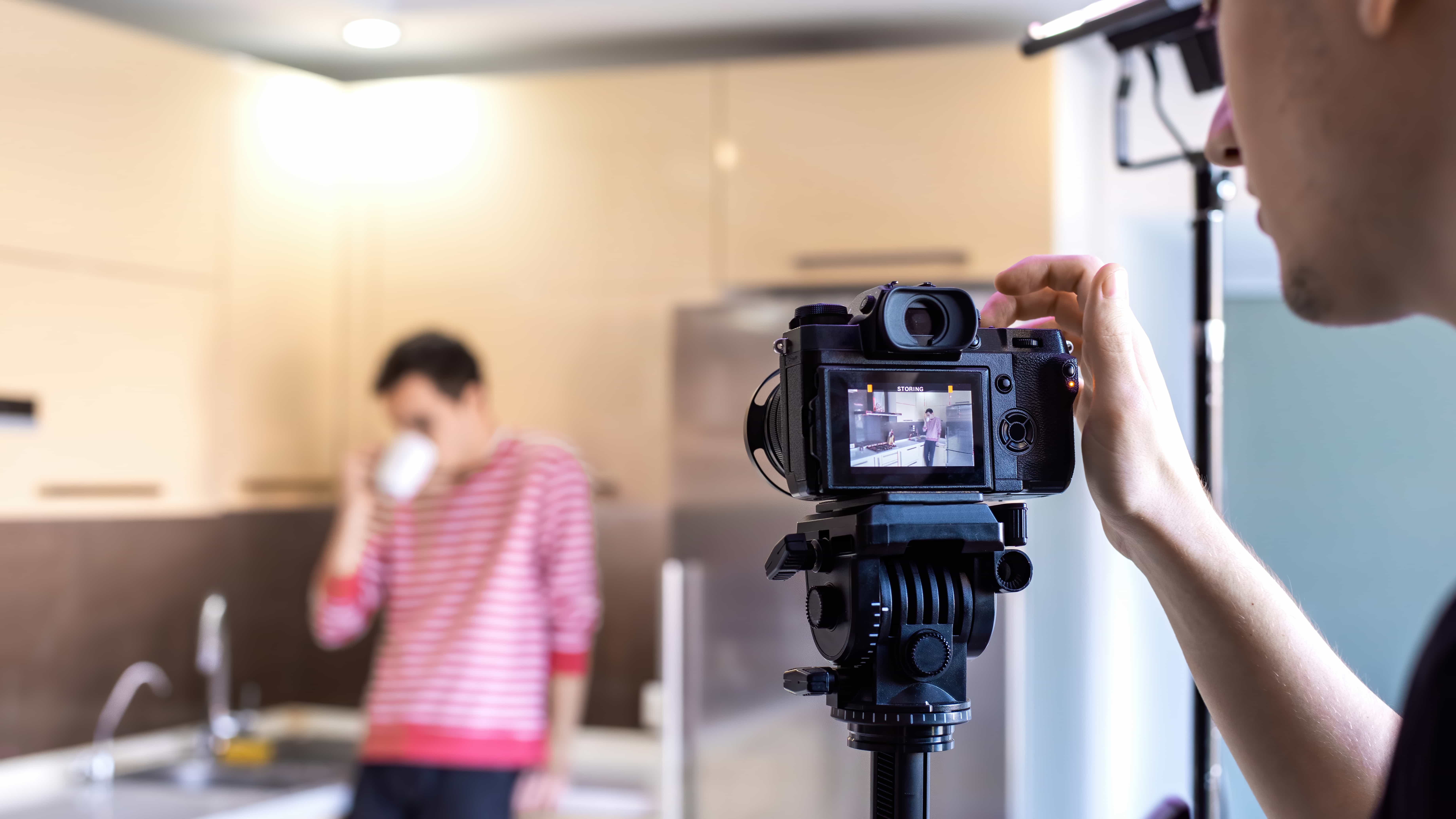 Buyers do indeed judge a book by its cover – especially when there are thousands of listings in a given city.
To sell a property, you have to make sure photos are appealing and catch buyers' eyes. This is one of the best ways to get potential buyers to reach out to you or to schedule a showing.
Using a professional photographer helps to create high quality images that can be posted on websites and shared on social media. These can also be sent through SMS marketing to generate an immediate response. You'll use photos a lot, so it makes sense to go with a qualified and talented real estate photographer.
4. Create Video Walk-Throughs
Video walkthroughs are wonderful for potential buyers. Buyers get excited during the home search process, and video walkthroughs are the perfect way to show what the house really looks like.
You don't have to go with a professional, either. You can shoot a high quality video on a good smartphone or with your own drone, making this a cost effective way to get leads looking into your listed properties.
And with an active SMS marketing strategy, you can easily send videos to your client base!
5. Build Up Your Zillow Profile
Obviously, anyone in the real estate industry knows that Zillow is super important. Not only is the site incredibly relevant for homebuyers (and sellers!), but it's acquired something of a cult following. Just check Instagram and you'll see handles like @zillowgonewild. Zillow is incredibly powerful!
Buyers and sellers alike use it to research the market, search for prospective properties, and more. By ensuring you have a strong presence on Zillow, you can attract the exact audience that you want- potential buyers and sellers in your location.
Create a profile on Zillow and make sure to ask for reviews after each successful transaction. You'll be shocked at how effective a good Zillow profile can be. An optimized profile means more traffic and more contacts.
You can also run ads for Zillow as well. This can be super targeted and successful, but it's best to optimize your profile first.
6. Leverage Trulia Ads
Trulia is another great resource for real estate marketing. If you aren't on Trulia, you're missing out! Tons of buyers and sellers are on Trulia.
Set up a profile, and then leverage its ad platform to get your name in front of all those buyers and sellers.
If you have a prospective home or condo that you're marketing, run a fewads to test their effectiveness. Starting out small, analyzing your data, and making adjustments as needed are key to running an effective marketing or advertising campaign.

7. Use Content Marketing
Content marketing is a great way to draw visitors to your SMS marketing campaigns and websites. To do this, it's important to plan your content based on your audience, as well as identify external sites that you can market your content.
This involves building relevant and useful content on popular authoritative sites, which links back to other relevant content on your own site.
Consider publishing on mediums like:
Quora
LinkedIn's publishing platform
Medium
Other bloggers (guest posts)
Doing this requires anchor content, or content that is on your own site that you want visitors to find.
💡 TIP: Don't just throw words out there. Know who you're writing for. To find that out, ask yourself:
Are most of your clients sellers, buyers or a mix of both?
What are the demographics of your sellers or buyers?
Do you want to use your blog to maintain a relationship with past clients so you'll be in mind when they are moving again or for referrals?
Do you serve a specific area?
It's OK to have more than one audience. Market segmentation can work gloriously for real estate agents, but make sure you provide equal amounts of relevant information per group and organize your posts into various categories so potential and current clients can easily find what they're looking for.
Having a content marketing plan is key. Consider the following statistics:
70% of

marketers

invest in content marketing to promote their brand, service, or product.
78% of brands

have at least 1-3 content marketing or writing specialists.
One of the key performance indicators for marketers is the amount of website traffic the brand gets.
Despite this, 63% of businesses don't have a content marketing strategy!
This is a major gap between best practices and what is actually being done.
The good news?
A savvy real estate professional can dominate SEO and increase their leads and sales through a well thought out and expertly executed content marketing strategy.
It's not difficult to create a content strategy plan, but it does require knowing yourself, your brand, and your audience.
You should first set goals and then work backwards to accomplish them. Some goals for your content marketing strategy might be:
Get more signups for your lead magnet, resulting in more

phone numbers

for SMS marketing and more email addresses for email marketing.
Hit a certain revenue target for the quarter
See an increase in site traffic and engagement (the more specific the better- for example, 34% more web traffic by August 30th).
Improve the search ranking of your key pages
Get a certain number of mentions, comments, and shares for pillar content.



8. Start Blogging
Starting a blog is a great way to build yourself as an authority in the real estate industry. You can create valuable content to build an audience and platform over time. It does take time and won't happen overnight. But with consistent posting of valuable content, you will gain an audience.
This can help in many ways. You will not only be able to provide valuable content, but you'll improve your Search Engine Optimization (SEO), and create an audience- ultimately leading to brand awareness and brand loyalty.
Make sure to track your blog. You can gauge the success of your posts by:
How high it ranks on google for your keywords
How long a reader stays on the page
How many links it gets from other sites
How many return visitors you get
How many share people share it on various social media websites
Examining (and interacting!) the comment section to see how engaged viewers are and how they are interacting with the post.
9. Repurpose Your Content
Make your content work harder by repurposing it into new content. One piece of well written content can become so many things- allowing you to do more with your limited time.
There's no reason to reinvent the wheel here. Simply turn your high quality content into other mediums. If you take the time to craft a well-written piece of content there is no reason why it shouldn't be used as much as possible to improve your content marketing game.
A pillar post about mortgage rates can easily be spun into smaller articles with a cluster planning strategy. The same piece of content can be turned into a Youtube video, an infographic, or information for a podcast. Integrate video and other media and share it everywhere that you possibly can. This will help you build an audience so you can best market your real estate business.
10. Connect with Clients via Instagram
Instagram is a great way to reach tons of users, promote your text marketing campaigns and build your subscriber lists. It's key to have an Instagram profile when it comes to real estate marketing.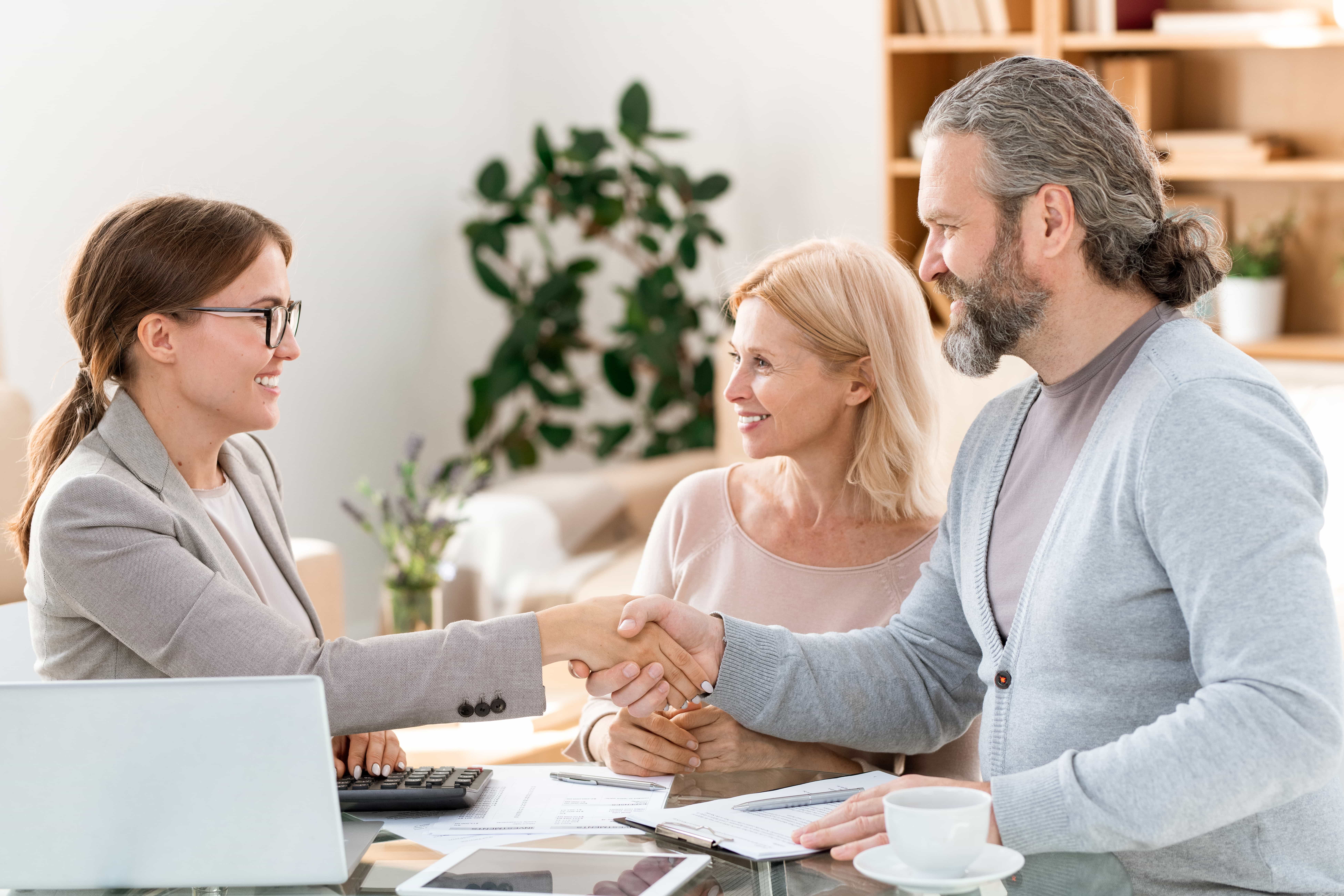 Post photos and videos of properties or capture other lifestyle imagery that helps you get the word out and build followers. Connect with others by browsing popular and relevant hashtags.
Check out what your successful competition is doing. Don't copy them – build your own brand. But knowing what is successful and what isn't can help you come up with content.
Make sure to include your SMS marketing number in your profile and captions, so you can be sure to convert your instagram followers into customers.
11. Build Up Your Facebook Page
Facebook is another great resource that has a ton of users that you can target and connect with. Creating a Facebook business page and advertising it is a great approach to reaching potential buyers and sellers.
Building a Facebook page is super easy. After building it, make sure that you're active and deliver good value on every post. It isn't enough to just throw something out there- social media should be an active part of your content marketing strategy.
Your goal for your Facebook posts should be to provide value for your target audience, whether that's helpful tips on buying a home or recent listings. Delivering value will make sure that your audience engages with you, and will keep you at the top of their minds when they are looking to buy or sell a home.
12. Use Twitter Hashtags
Twitter is a great platform that can help you reach more of your target audience. You need a Twitter page for your business- that's a given. But you should also be browsing and searching relevant Twitter hashtags that you can try to target and then saturate.
Use Twitter's search tool to find trending and relevant hashtags that you can use on your posts. You can also use this to find posts to interact with, like, and comment on. This will help get your handle in front of more prospective buyers and sellers.
13. Ask for Referrals
Referrals are a great way to supercharge your real estate marketing efforts online. ANd you can simply ask your clients for a referral via an instant and direct text message.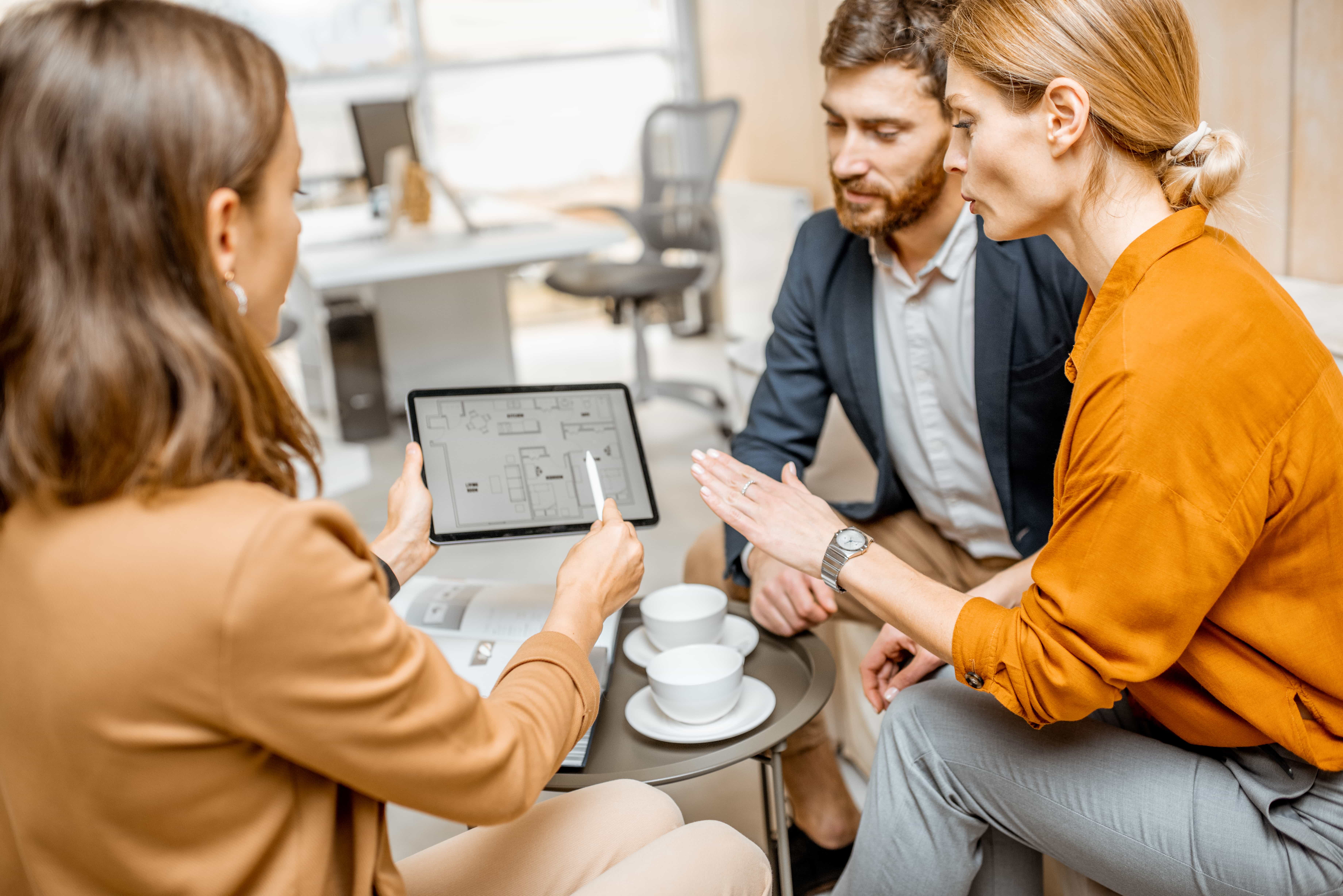 Once you've completed a few successful transactions, network with your client and ask for referrals. Sometimes you can do so by including a brochure and/or business cards in a "welcome home" gift that many realtors offer.
Offering incentives, such as a small gift card or other reward is another great way to ask for referrals. Come up with a unique way to pitch referrals to your current clients, and of course, ensure you treat all of your clients the right way.
Doing so will make sure that they want to give referrals. Word of mouth is huge for real estate professionals.
14. Request Yelp Reviews
Reviews are incredibly powerful, especially for service and sales based businesses. Real estate text message marketing makes it super simple to reach out to your past clients and request a review.
Yelp is a fantastic resource for building reviews as a real estate agent or agency. Like referrals, consider adding your Yelp profile into your email signature and on your website. Ask buyers and/or sellers from successful transactions to post their feedback on Yelp.
Not convinced? Consider these stats on online reviews:
Hearing feedback has another added benefit- one that many business owners don't consider. Hearing feedback from customers gives you insights on how to improve the customer experience. You will be able to have a picture of the entire consumer journey to find areas that you perform well in and ones that need improvement.
Yelp, like most review sites, allows you to respond back to the customer so you can show appreciation, start a dialogue to learn more, and ensure that any possible issues are resolved.
Final Thoughts
Real estate SMS marketing can be very effective for your business. Building your list, sending effective campaigns, focusing on SEO, and getting active on social media are great ways to increase your real estate business revenue. It won't happen overnight- but with consistency, hard work, and realistic expectations, you will see more growth.
One of the best ways to market your real estate business is through SMS marketing. It's easy to send campaigns, provide listings, and get referrals with the right SMS tools and text messaging platform. Choosing a platform like VoxDirect means you have better AI tools so you can automate your SMS marketing- saving you time, money, and resources, all while growing your real estate business!
Using this technology is an amazing way to get more traffic, more sales, more referrals, and of course, more money! VOXOX is the #1 mobile first, 5G enabled communications platform for small businesses. Start your free trial here and see why thousands of real estate professionals trust VoxDirect for their marketing and communication needs.







DON'T MISS THE LATEST
Get updates in your inbox